FSM delegation meets with FSM citizens in Palau—discusses education & passports
Details

Category: News
Published: Tuesday, 19 March 2019 06:30
Written by Bill Jaynes
Hits: 1269
FSM Information Services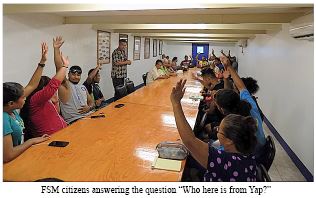 PALIKIR, Pohnpei—After the first day of the 19th Micronesia Presidents' Summit held in Koror, Palau, on the 20th and 21st of February 2019, representatives of the Government of the Federated States of Micronesia (FSM) found time to meet at Palau Community College (PCC) with FSM citizens residing in Palau. Among the Government's representatives included the Honorable Lorin S. Robert, Secretary of the Department of Foreign Affairs, the Honorable Andrew Yatilman, Secretary of the Department of Environment, Climate Change, and Emergency Management, the Honorable Joses Gallen, Secretary of the Department of Justice, and Leo Falcam Jr., Chief of Staff to His Excellency Peter M. Christian, President of the FSM. Organized by Honorary Consul Changeina Masang, in partnership with Dr. Patrick U. Tellei, President of Palau Community College, the meeting was attended by approximately forty FSM citizens hailing from all four states, though the vast majority came from Yap State.
"It's my pleasure to visit you, to see our citizens," said Secretary Robert. "We encourage you to study hard and to work hard…while you're here, you represent the FSM as our student ambassadors…. We are primarily here to say hello, to see how you're all doing, and to help answer any questions you may have about any topic. My colleagues and I are in your hands."
The first half of the conversation focused largely on education and employment opportunities. The attendees—mostly students—revealed what they were studying at PCC. While there was a mixture of subjects being pursued, including auto-mechanics and health, a disproportionate amount of FSM students in Palau advised that they're studying agriculture.
"There is nothing I've heard so far that we don't need in the FSM," said Chief of Staff Falcam. "We can use all of that…."
Secretary Gallen echoed Chief Falcam's remarks. "The FSM as a country is facing a very big problem: labor demand…the number of people in the states is decreasing. So what I want to share with you is to please finish your school and come back….Your family needs you; your state needs your; your country needs you. FSM cannot grow without you."
The second half of the conversation was focused on passports and immigration. "What is the process of renewing my passport?" one citizen asked; "If I get a Palau passport, can I still have an FSM passport?" another citizen asked.
Regarding the latter, FSM doesn't recognize dual citizenship and therefore an individual cannot be the citizen of the FSM and a separate country. An FSM citizen, who chooses to take on a different citizenship, such as a U.S. citizenship or a Palauan citizenship, immediately becomes an FSM National. Per the FSM Constitution, FSM Nationals can live and work in the FSM but cannot vote in state or national elections and cannot own property.
"Your passport is more important than your driver's license," said Secretary Gallen. "It's your most important document when you're away from the FSM.... You must first complete the application page, which includes basic information about you and your family. You must attach a passport-sized photo whose size is on the form."
"What if my passport is lost?" one citizen asked.
"Attach a note to the Department of Justice saying that you lost it…if you don't remember the number, we'll find it. But lost or damaged passports are a bit more expensive at $75," Secretary Gallen said. A regular passport is $50.
"One of the biggest problems," Secretary Gallen continued, "is when we get an application with wrong information or incomplete information…so what they do is try to send it back. One of the best ways to make sure that your application has complete information is to speak with Department of Justice or Department of Foreign Affairs representatives, including the Honorary Consul here or the embassies if you're abroad, before sending in your application." Secretary Gallen also recommended that prospective passport applicants include their return mailing address.
"Only three countries," said Secretary Robert, "have the privilege to live and work and study in the U.S.A. without a visa. And those three countries have such a close relationship with each other. Those countries are the Freely Associated States, FSM, Palau, and the Marshall Islands. So please treat your passport with respect and keep it safe."