OLMCHS students accepted for JSA summer 2019 at Stanford and Princeton, two with full scholarship
Details

Category: News
Published: Tuesday, 19 March 2019 06:43
Written by Bill Jaynes
Hits: 2463
OLMCHS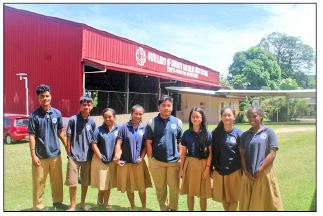 A total of eight students from Our Lady of Mercy Catholic High School (OLMCHS) are accepted to the Junior State of America (JSA) Summer Programs 2019. Six are accepted at Princeton University in New Jersey. They are Caitlin Danila, Deitra Helgenberger, John Hegileirig, Sergio David (all 11th Graders) and Saya Shigeta and Jade Togonon (both 10th Graders). Two more 10th Graders are accepted at Stanford University in California - Yrra Peñascosa and Leila Jade Lane. The summer courses offered are AP US Government, AP Macroeconomics, International Relations, and Speech & Political Communication, aside from the Debate Workshop. Mr. Russell Figueras, the OLMCHS JSA Club Advisor, stated that: "These eight students deserved it as they worked hard in their applications, from their personal essays to their analytical and argumentative essays."
OLMCHS has been sending students to this program since Summer of 2012. The school would like the students to experience the JSA Summer School advantage. Attending the program, the students will be more prepared for the challenges of college life, create lifelong friendships, build leadership skills, and learn from respected professors from high caliber universities in the U.S. All OLMCHS students who attended the program came back to the school with great leadership skills and high self-confidence. OLMCHS has so far 16 JSA Alumni from Stanford University, Princeton University, Georgetown University, and Beijing Diplomat Program.
On February 21, 2019, JSA Senior Program Director Ed Banayat announced that of the eight accepted students, two were awarded full scholarships which include tuition, housing, meals, textbooks, and other academic expenses including airfare. The two scholarship recipients are Caitlin Danila and Deitra Helgenberger. The other six will explore other ways and means to be able to attend the program. Sr. Krista Namio, MMB, Principal of OLMCHS, thanked all the teachers who shared extra time in guiding the eight students in the application process.