Four to represent the FSM in the World Special Olympics Summer Games in Abu Dhabi
Details

Category: News
Published: Friday, 17 May 2019 04:59
Written by Bill Jaynes
Hits: 1019
By Nikisha Smith
March 1, 2019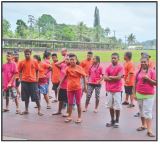 Pohnpei—On Friday, the 1st of March Special Olympics Micronesia hosted a track and field event for students with intellectual disabilities. It was great to see the turnout to support our four students who will be travelling to Abu Dhabi to represent the FSM in the World Special Olympics Summer Games in Abu Dhabi. They will be competing in the 60m, 100m, shot put and long jump.
This is the first time the FSM has participated in the Special Olympics and is an honour for; Harrison Rea Eliou, Kimlein Kostika, April Luhk and A-Trick Paul to be our first ever representatives.
They will be accompanied by their coaches; Maureen Villa and Patterson Anson. Also attending in Abu Dhabi is the Chairperson of Special Olympics Micronesia, Castro Joab and Sports expert, Dorothy Chieg.
Special Olympics is the largest sporting organisation for people with intellectual and physical disabilities with a strong focus on what people CAN do. It is through sports that people can challenge themselves in a competitive environment, develop skills, abilities and prosper to success.
We are very honoured that Micronesia has been asked to participate in an inclusive and courageous event. Special Olympics Micronesia is our not-for-profit NGO that has been working with students in the FSM to train them for this big event.
We are looking forward to continue to 'Ensuring inclusion through sports'.
A special thanks to our guests of honour; Hon. David Panuelo, H.E. George Fraser, Roddy Robert, Hon. Marcello Peterson, Marcus Samo and Arthur Albert.