Anglers brave blustery weather for WCPFC and CFC fishing tournament in Pohnpei
Details

Category: Sports
Published: Friday, 17 May 2019 04:59
Written by Bill Jaynes
Hits: 1573
Pohnpei Fishing Club
March 9, 2019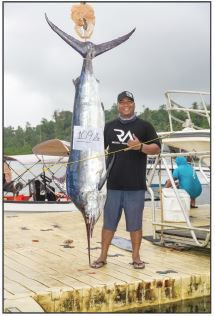 Pohnpei—16 boats and their anglers registered for the Western and Central Pacific Fisheries Commission (WCPFC) and Caroline Fishing Corporation (CFC) fishing tournament. It was a blustery day that turned fine until it was time for the 4:00 weigh-in when a squall blew in. Despite the conditions, all of the boats made it back in.
Though schools weren't out in force during the tournament anglers still managed to catch fish, the biggest of which was Rodney Phillip's 109 pound marlin. That fish won him a $500 cash prize for biggest fish.
The heart breaker of the tournament was Dane Nighswander's 49 pound sailfish which was one pound short of the weight required for a qualifying sailfish.
Cash prizes provided by the WCPFC and CFC for top anglers are as follows:
Big Fish
$500 - Rodney Philip for a 109 pound marlin
$400 - Bernolina Hedson for a 29 pound Grand Trevally
$300 - Konrad Englberger for a 21 pound Wahoo
$200 - Chuck Handy for a 20 pound Wahoo
$150 - Wilmar Acquino for a 19 pound Wahoo

Tiare Eastmond won $100 as the top lady angler for her 18 pound Wahoo.
Heziel Edward pocketed $100 as the top junior angler for his eight pound skipjack
Cash prizes of $100 and $50 respectively were also awarded for the biggest fish in species though in the case of Yellow Fin or other tuna the first prize went to Jimmy Obispo for his nine pound yellow fin. The second prize was split between Welber David for his 6.5 pound yellow fin, and Dane Nighswander for his 6.5 Dogtooth tuna.
First prize for Mahi Mahi went to Junior Spence for his fish of 16.5 pounds. Second prize was awarded to Westcott Panuelo for his 15.5 pound fish.
Nathan Glancy won the top prize in the Wahoo category for an 18 pound fish. He was followed by John Alefaio with a 16 pound Wahoo.
Tiare Eastmond won $100 for her catch of an 11.5 pound Barricuda. The $50 prize went to Konrad Englberger for his 10.5 pound catch.
Welber David caught a monstrous 17.5 Skip Jack and also a big 12.5 pound Skip Jack. His catches earned him both first and second prizes.
The club and its members thank WCPFC and CFC for their continuing generosity in sponsoring the club's activities and particularly for this first tournament of 2019.
Thanks also go to the volunteers who help make the tournaments happen.
The next Pohnpei Fishing Club tournament will be on April 6, sponsored by Ocean View West Wing and Best Buy. The World Tuna Day tournament, sponsored by the National Fisheries Corporation, Taiyo, and Kasar will be on April 27.