St. Patrick's Day run supports Rotary club projects
Details

Category: News
Published: Friday, 17 May 2019 05:35
Written by Bill Jaynes
Hits: 958
Rotary Club of Pohnpei
March 16, 2019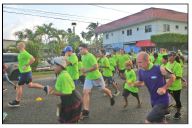 Pohnpei—The Rotary Club of Pohnpei had its annual fun run in the early morning hours of March 16 in honor of St. Patrick's Day. Registered runners wore the green T-Shirts that Ambros Inc. of Guam donated.
The exuberant crowd participated in a pre-run warmup led by the Zumba group until the power went out. The power outage didn't dampen the enthusiasm of the runners whose entry fees went to support the many good causes that the Rotary Club of Pohnpei supports.
Along with many other community projects, last year the Pohnpei Rotary Club awarded $12,000 in scholarships. They provided two hand held scanners to the hospital to assist in diagnosing rheumatic heart disease in children. The club is expanding that program to include a rheumatic heart disease awareness campaign next year.
The club contributed to the cause of eradicating non-communicable diseases when it purchased some of the exercise equipment on the causeway that has seen heavy usage since its recent installation.
The Club also supported the Pohnpei Spelling Bee that sent winning students to Guam to compete in the next round.
Though many participated in the Fun Run/Walk just for pure satisfaction of contributing to a noble cause, prizes were awarded to the top 20 finishers in the race. Prizes were provided by Moylan's Insurance and Village Travel. They also received a calendar from the Rotary Club. The top 20 finishers and their times are listed below:
Kota Murasato 19:49:34
Alex Brencht 20:44:10
Alex Rodriguez 24:10:17
Josh Gallen 24:12:24
James Crosby 24:57:08
Ryo Shibahara 25:03:61
Dana Lee Ling 26:13:43
Kayzee Foy 26:37:51
Gregory Enas 26:37:51
Tom Mache 27:08:95
Garcia Mitchell 27:42:35
Marcelles Mizard 27:42:35
Zachary Penias 28:51:44
Franky Donre 30:26:00
Diana Shigeta 30:29:45
Rayhard Rio 30:29:45
Antony Wilson 30:55:54
Rene Merencillo 32:25:00
Joseph Ortega 33:70:00
Mae Shalane Wendolin 38:15:54
The Rotary Club of Pohnpei thanks its sponsors Ambros, Inc. and Budweiser for the T-Shirts, Palm Terrace for the venue, Moylan's Insurance and Village Travel for the prizes. Australian Ambassador George Fraser also made important and appreciated donations. The support of FSM National Olympics and the Pohnpei State Sports Office and that of many volunteers was crucial for the successful run.
The Fun Run Run/Walk also could not have been done without the support of the Kolonia Town and Pohnpei State Police officers who provided security
It was a great day out and a good way to get exercise in the morning and for once, during a Rotary Club Fun Run/Walk, we weren't inundated by torrential rains.
Keep supporting Rotary and stay fit.