Grant contract signing ceremony for the project for procuring recycling equipment in Chuuk State
Details

Category: News
Published: Friday, 17 May 2019 05:39
Written by Bill Jaynes
Hits: 2119
Embassy of Japan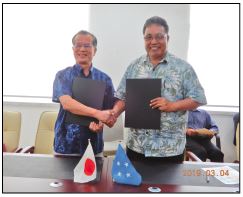 On March 4, 2019, the Grant Contract Signing Ceremony was held at the Governor's office for the Project for "Procuring Recycling Equipment in Chuuk State", which provided Environmental Protection Agency (EPA), Chuuk State with US$64,897 under the Grant Assistance for Grass-roots Human Security Projects.
This project will provide an Aluminum Baler and a Plastic bottle Baler which will assist in the implementation of a recycling system through Environmental Protection Agency (EPA) in Chuuk State. The same type of recycling system has already been implemented in the other three FSM states. The way the system works is that 6 cents charged per beverage container, when consumers buy a beverage. Consumers who bring empty beverage containers to the recycling center will get 5 cents back for each can and bottle as a refund. 1 cent is used for operation cost of recycling system. Chuuk EPA is planning to implement the recycling system this year, but without the provided machines, the system can't be implemented. Therefore, the provided balers will allow Chuuk State to implement the recycling system and as a result it is expected to reduce littering and improve the environment in Chuuk State.
Mr. Picho Cheida, the Legal Counsel at Chuuk EPA, commented on the project and stated that this project will help the efforts of the state to minimize the solid waste in Chuuk State. In his address, His Excellency, Ambassador Horie stated that it is his pleasure to assist the FSM and improve the environment for a better future. He encouraged a successful implementation of the recycling system in Chuuk State. The Hon. Johnson S. Elimo, Governor of Chuuk State, expressed his gratitude for the generous assistance from the Government and people of Japan.
The ceremony was witnessed by Hon. Mark Mailo, President of the Senate, Mr. Jason Poll, Acting Director of Chuuk EPA, Mr. Douglas Marar, Director of Chuuk Visitors Bureau, Mr. Season Jacky, Deputy Director of Transportation and Public Works, the staff of Governor's office, the staff of Public Affairs, the staff of Chuuk EPA and the staff of the Embassy of Japan in the FSM.