Yap's Laarwon Named To Japan Leadership Program
Details

Category: News
Published: Friday, 17 May 2019 06:04
Written by Bill Jaynes
Hits: 1870
APIC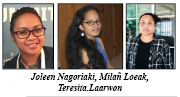 TOKYO – Teresita Laarwon of Yap is one of three young women from Micronesia who have been named to a program in Japan that identifies up-and-coming regional leaders. They were selected by The Association for Promotion of International Cooperation, a Tokyo-based private foundation that promotes relations with the island nations of the Pacific and the Caribbean.
The women chosen for this year's APIC Young Micronesian Leadership Program along with Laarwon are Milañ Loeak of the Marshall Islands; and Joleen Ngoriakl of Palau. The women will travel to Japan this month to meet with regional affairs and environmental experts in government and academia. They will also get the opportunity to experience Japanese culture first-hand when they travel to Kyoto to learn how to wear kimono and the ancient art of the tea ceremony.
"We believe these young women have the potential to be among the region's top leaders, and even beyond," said APIC President Peter Yoshiyasu Sato. "We're looking forward to getting to know them, and having them learn about Japan."
Laarwon is a teacher at Yap Catholic High School and previously worked at the Yap Visitors Authority in the Federated States of Micronesia. She is a graduate of Xavier High School, and has a degree from Spokane Community College. She's completing requirements to graduate from Eastern Washington State University.
Loeak is Managing Director of Lieom N. Corp., her family's investment company, and is active in community and cultural organizations. Her father, Christopher Loeak, is a chief and former president of the Marshall Islands. She is a graduate of Xavier High School on Chuuk, and attended university in the United States.
Ngoriakl is chief of staff in the Koror State Government in Palau. She previously worked for a local agency and a regional authority in Palau. The author of a published book for kids, is a graduate of Mindszenty High School in Koror and of Regis University. She is studying to complete her master's degree at Johns Hopkins University.
More information on The Association for Promotion of International Cooperation can be found at http://www.apic.or.jp/index_eng.html.