Pohnpei Fishing club concludes another exciting tournament
Details

Category: Sports
Published: Friday, 17 May 2019 06:16
Written by Bill Jaynes
Hits: 1705
Pohnpei Fishing Club
April 6, 2019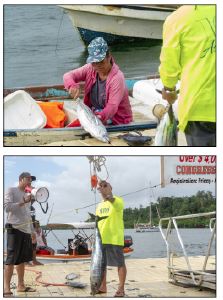 Pohnpei—Ocean View West Wing, Best Buy, One World Plaza with support from Senator David Panuelo, and RAIN sponsored a fishing tournament in Pohnpei on Saturday April 6. RAIN also participated by providing each boat with a case of locally bottled water. 18 boats braved the rainy weather to participate in the tournament.
Though for the most part, the fish that were caught weren't particularly large, anglers landed several good catches in all categories. Lara Trott won the grand prize of $600 for her catch of a 43.4 pound dog tooth tuna. Trott also won the second place prize of $500 for a dog tooth tuna only 3 tenths of pound less than her grand prize winning fish.
The top three winners for point fish were lady anglers. Four lady anglers nabbed additional prizes in their category.
Most of the prizes were cash prizes though there were also some nice gift certificates provided by the sponsors as well. The Lady Angler winners received a free night at Ocean View in addition to cash prizes for their catches. The top two also received dinner. The three top Junior Anglers won gift certificates for pizza along with their cash prizes.
The Pohnpei Fishing club couldn't have tournaments without its sponsors. Thank you to the sponsors for providing $4,000 in cash and prizes.
The next Pohnpei Fishing Club tournament will be the World Tuna Day tournament on April 27.
Prize winners for the April 6 tournament follow: