Handover ceremony for the project for power sector improvement in Kosrae
Details

Category: News
Published: Friday, 17 May 2019 06:22
Written by Bill Jaynes
Hits: 1770
Embassy of Japan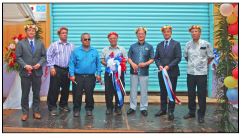 On March 27th, 2019, the handover ceremony for the Project for Power Sector Improvement in Kosrae was held at Lelu, Kosrae State. For this project, 1.19 Billion JPY (equivalent to 10.7 million USD) was donated by the Government of Japan to construct a power plant with two 600kw diesel generators, 13.8 kV overhead distribution lines at Lelu island and 13.8 kV underground distribution lines at Okat area. Trainings for local engineers were also provided to maintain the donated equipment. This project will improve the livelihood of people in Kosrae and assist economic development in the Kosrae State.
In his address, the Hon. Carson K. Sigrah, the Governor of Kosrae State, expressed his appreciation for the generous donation from the Government of Japan, and stated that the new power plant will be the new landmark for the strong relations between Kosrae State and Japan. The Hon. Yosiwo P. George, the Vice President of the FSM, firstly thanked the suppliers and consultants of this project such as NBK Japan, Toshiba, Yachiyo Engineering for their hard work, and stated that the new power plant will provide a steady and reliable supply of electricity which is essential for Kosrae State to develop.
H.E. Ryoichi Horie, Ambassador of Japan, stated that the new power plant will benefit the people of Kosrae through the improvement of the infrastructure. He also encouraged KUA staff to conduct proper maintenance so that the donated equipment will last longer. Mr. Shibata, Resident Representative of JICA Micronesia, stated that the project could not be completed without kind cooperation from the Kosrae State Government and KUA.
After the ribbon cutting by the representatives of each organization, the Vice President George turned on the engine of new power plant.
The ceremony was witnessed by the representatives of NBK, Toshiba Plant System & Service, Nishishiba Electric, Daihatsu Diesel and Yachiyo Engineering and staff of National and Kosrae State Government, KUA, JICA Micronesia and the Embassy of Japan in the FSM.