Handover ceremony for the project for construction of support center for persons with disabilities
Details

Category: News
Published: Friday, 17 May 2019 06:25
Written by Bill Jaynes
Hits: 3433
Embassy of Japan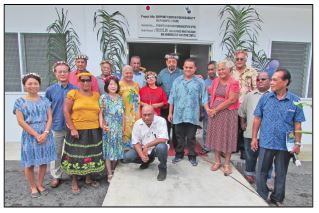 On April 3, 2019, the Handover Ceremony was held at the Pohnpei Consumer Organization in Dolonier Nett for the Project for Construction of Support Center for Persons with Disabilities in Pohnpei state which provided the Pohnpei Consumer Organization (PCO) with US$109,105 under the Grant Assistance for Grass-roots Human Security Projects.
The objective of this project is to increase awareness on human rights of persons with disabilities by constructing a new facility which will be utilized as a space to hold training and workshops for empowerment of persons with disabilities.
In his address, His Excellency Ryoichi Horie, Ambassador of Japan, expressed his delight for the completion of this project which brings a great supporting center that will contribute to the improvement in quality of lives of persons with disabilities in Pohnpei State. Mr. Henry Phillip, the President of PCO, expressed his sincere gratitude to the Government of Japan for the generous donation. Mr. Nelbert Perez, Founder of PCO, acknowledged Ambassador Horie for the generous donation and stated that the new building will be a model for accessibility for those persons with disabilities in the country and bring more possibilities for them. The Hon. Marcelo K Peterson, Governor of the Pohnpei State Government, expressed his deepest appreciation for the variety of continuous support from Japan to Pohnpei State. To close out the remarks, the Hon. Isonahnken of Nett Municipality, Mr. Salvador Iriarte expressed his sincere gratitude to the Government of Japan for the support to the people of Pohnpei.
The program was enhanced by presentation of songs from the people of Sapwuafik, Ambassador and Madam, and Mr. Danny Kalio, a member of PCO.
The ceremony was witnessed by Traditional leaders, The Hon. Lorin S. Robert, Secretary of Foreign Affairs, representatives of Pohnpei legislature, staffs of FSM National Government and Pohnpei state Government, members of PCO and staffs of Embassy of Japan.