Grant contract signing ceremony for the project for procuring a medical waste incinerator in Yap State
Details

Category: News
Published: Friday, 17 May 2019 06:33
Written by Bill Jaynes
Hits: 3249
Embassy of Japan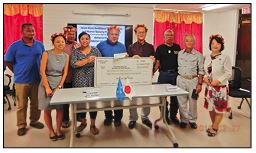 On February 27, 2019, a Grant Contract Signing Ceremony was held at Yap State hospital conference room for the Project for "Procuring a Medical Waste Incinerator in Yap State", which provided Department of Health Services, Yap State with $61,640 under the Grant Assistance for Grass-roots Human Security Projects.
This project intends to provide one (1) Medical Waste Incinerator, in order to ensure a clean and safe environment without emission of pollutants.
The Hon. Henry S. Falan, Governor of Yap State, showed his gratitude for the generous assistance from the Government of Japan. He also mentioned that with this project people in Yap will be ensured a clean and safe environment. Ambassador Ryoichi Horie stated that the important stage is to maintain and utilize this incinerator for the welfare of the people in Yap, and he hoped the Yap state hospital will continue and improve the provision of good medical services to the people in Yap.
The ceremony was witnessed by The Hon. Lt. Governor Jesse Salau, the Chief of Division of Media & Protocol Mr. Sebastian Tamagken, the Public Information Officer Mr. Joshua Libyan, the Director of the Department of Health Services Ms. Aileen Tareg, the Department of Health Services, Maintenance Division Chief Mr. Augustino Harongochem, the Finance Operations Manager Mr. Julius Tun, JICA volunteers and the staff of the Embassy of Japan in FSM.