UFCP holds fundraising for Taal Volcano victims
Details

Category: News
Published: Monday, 02 March 2020 03:05
Written by Bill Jaynes
Hits: 1195
Alvie B. Cabañez
Kaselehlie Press Volunteer Contributor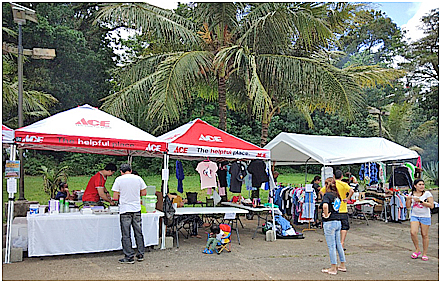 To benefit the victims of the eruption of the Taal volcano in the Philippines, the United Filipino Community in Pohnpei (UFCP) sponsored a "Flea Market for Cause" on February 1, 2020.
Held in the parking lot of the Pohnpei Cinema, vendors sold their wares and donated a portion of their profits to UFCP to send to the Phillipines on behalf of the victims.
On January 12, 2020, the Taal Volcano in the Batangas province erupted for the first time in 42 years spewing thick clouds of ash and lava fountains. The eruption affected thousands of families and caused millions of dollars' worth of damage.
At 311 meters hight, the Taal Volcano is classified as one of the world's lowest and deadliest volcanoes. It has 47 craters, the main crater being 1.9 kilometer in diameter.
"Upon hearing the news, I was saddened by it and worried at the same time because some families of our fellow Filipinos here in Pohnpei were affected," said Gerry Figueras, UFCP President. "This initiative came as no surprise given the reception of the stall owners and customers especially it's for a noble cause," he continued.
Shoppers could buy a wide array of second hand items ranging from clothing, electronic gadgets, sports apparel, to kitchenware, all at reasonable prices. The could also buy and enjoy Filipino delicacies like vegetable lumpia, palitaw, gotong Batangas, siomai, suman, cakes and pastries, porridge, grilled chicken and pork while shopping.
One World Plaza Coffee shop, Eco-Friendly Options, Walwal is Life, Sheena Mamangon, Dimple Bacareza, and the different regional organizations of UFCP were among the groups and individuals who registered for the event.
The event was headed by Engr. Figueras, UFCP President, the Filipino regional organizations, and supported by Ace Office Supplies, and FSM Telecommunications.