Grant contract signing ceremony for the project for procuring a portable X-Ray machine in Chuuk State
Details

Category: News
Published: Monday, 02 March 2020 03:16
Written by Bill Jaynes
Hits: 720
Embassy of Japan in FSM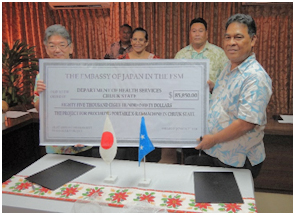 On January 9, 2020, the signing ceremony for the Project for Procuring a Portable X-ray Machine in Chuuk State was held at the Chuuk State Hospital to provide Department of Health Services, Chuuk State with the funds up to US$ 85,850 under the Grant Assistance for Grass roots Human Security Projects by the Government of Japan, to this end.
This project will provide a portable X-ray machine, in order to improve the healthcare services in Chuuk State by detecting the prevalent Tuberculosis promptly leading to providing the appropriate treatment for the people in remote islands. The portable X-ray machine to be provided will enable the mobile clinic activities in remote islands in Chuuk and will benefit 6,000 residents in 2 remote islands, to begin with, with X-ray examination and appropriate treatment.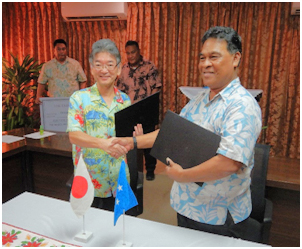 At the ceremony, Mr. Julio Marar, Director of Chuuk State's Department of Health Services expressed deep appreciation for Japan's continuous support to Chuuk State particularly that from the Government of Japan, through JICA and other organizations. He stated that while Chuuk State had various challenges in the healthcare sector, the portable X-ray machine would significantly improve the situation.
Ambassador Sobashima Hidenobu stated that Japan decided to finance the provision of a portable X-ray machine to address the problem of the prevalence of tuberculosis in Chuuk State, and that he hoped that the portable X-ray machine would enable early detection and appropriate treatment of tuberculosis, and thus would contribute to the good health of the people in Chuuk State.
The ceremony was attended by the Hon. Mark Mailo, Lieutenant Governor, Mr. Julio Marar, Director of Department Health Services, and other officials of the Government of Chuuk State, doctors and members of Chuuk State Hospital, and members of the Embassy of Japan in the FSM.