RMI's Second Contribution of 25K to the Bill Raynor Micronesia Challenge Scholarship Fund (BRMC)
Details

Category: News
Published: Monday, 02 March 2020 03:37
Written by Bill Jaynes
Hits: 731
Republic of the Marshall Islands
Public School System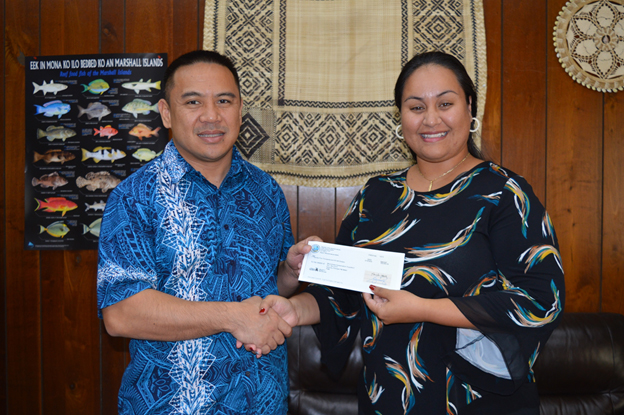 Majuro, Marshall Islands – On Tuesday February 18th, 2020, the Republic of the Marshall Islands contributed its second $25,000 check to the Bill Raynor Micronesia Challenge (BRMC) Scholarship Fund, for a total contribution from the RMI government of $50,000. This contribution will secure a 1:1 match from a US based anonymous donor.
The Minister of Education, Sports and Training Hon. Kitlang Kabua presented the check to the Micronesia Conservation Trust (MCT) Board of Trustees, Mr. Francis Carlos Domnick at the Ministers office.
Also, present to witness the handover was Associate Commissioner Sally Ann deBrum.
This contribution is to support a target goal to raise an endowment fund of approximately $1.2 million dollars to generate at least 5% earnings per year, to support two full time students per year with $30,000 annual scholarships. This endowment fund is to support graduate students in natural resources management fields who are citizens and/or long-term residents of the five jurisdictions of Micronesia, the Federated States of Micronesia (FSM), the Republic of Palau (ROP), the Republic of the Marshall Islands (RMI), US Territory of Guam and the Commonwealth of the Northern Mariana Islands (CNMI) pursuing their graduate degrees in biodiversity conservation and other related sustainable development at universities within the Pacific region or in the US mainland. To date the fund has supported 13 students from across Micronesia with 3 having graduated thus far.
Mr. Lakjit Rufus of the Ministry of Natural Resources and Commerce is the first Marshallese recipient of the scholarship. He is expected to graduate with a Masters in Global Environmental Studies from Sophia University in Japan this summer. Applications are now
open, please go to www.ourmicronesia
.org/scholarships for more information.