MCT's own JoLynne Gallen Mori- Leading by example
Details

Category: News
Published: Monday, 02 March 2020 03:39
Written by Bill Jaynes
Hits: 1032
Micronesia Conservation Trust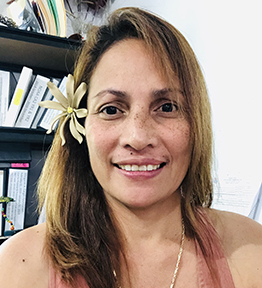 Kolonia, Pohnpei- The Micronesia Conservation Trust (MCT) prides itself on building the capacity of Micronesia's young and emerging conservation champions through its peer learning networks, internships and scholarship programs. Over 100 young Micronesian women and men are supported by these programs, and recently one of MCT's own, Senior Grants Officer, JoLynne Gallen Mori, graduated with a Master of Business Administration from the Benedictine University with a 4.00 average in every single semester she completed. JoLynne has been with MCT since 2014 and will continue serving in her capacity as a Senior Grants Officer. Her main role as Senior Grants Officer is to manage a number of grants that MCT has secured from international donors. She manages over 25 subgrants to our local implementing entity partners, supporting a wide range of conservation and climate change adaptation projects.
Jo Lynne joined MCT in 2014 after 2 years with the GEF Small Grants Programme (GEF-SGP) where she served as the Programme Assistant. She earned her Associate Degree at the College of Micronesia-FSM in Liberal Arts in 1996. She worked at the FSM Department of Economic Affairs as the Assistant Registrar of Corporations from 1997-2002 where she decided to further her education at the University of Hawaii in Hilo. In 2005, she graduated from the University of Hawaii with a B.B.A in Business Administration.
Outside of MCT, Jolynne enjoys spending time with her family and friends, caring for her Mom and her home, participating in community events and volunteering whenever she can including being a founding member of the newly established KOHWA NGO in Pohnpei. KOHWA stands for Koupweliki OH Wauneki Atail -sohso, which means to have pride and respect for our inheritance including natural resources and culture. KOHWA is based in Pohnpei, FSM and works with communities to improve sustainable practices through alternative income generation and community education on health, environment and cultural heritage in Pohnpei.
Congratulations to JoLynne for a job well done! JoLynne's graduation with a masters degree increases the number of recent MCT supported graduates students to four (4) in the last few months. MCT will continue to support our emerging leaders in the coming years and this year will soon be announcing four new scholarship opportunities for Fall2020.