Caroline Fisheries Corporation (CFC) tests non-entangling and biodegradable fish aggregating devices (FADs)
Details

Category: News
Published: Monday, 30 November -0001 00:00
Written by Bill Jaynes
Hits: 1006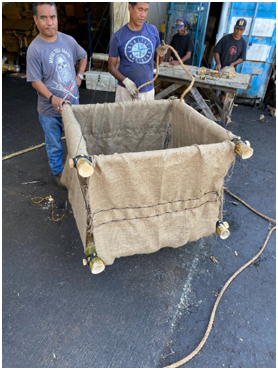 In partnership with the National Oceanic Resource Management Authority (NORMA), Caroline Fisheries Corporation (CFC) and the International Seafood Sustainability Foundation (ISSF) embarked on a trial project to test non-entangling and biodegradable fish aggregating devices (bio-FAD) as part of the Federated States of Micronesia (FSM) commitment to the Western and Central Pacific Fisheries Commission (WCPFC) Conservation and Management Measure (CMM 2018-01) that takes effect in January 2020. To minimise the harm caused by drifting FADs, all existing and new FADs must be constructed so that marine fauna such as sharks and turtles cannot become entangled in them.
FAD construction to use natural or biodegradable materials.
There are about 30 bio-FADs constructed thus far by CFC and 100 will be deployed in total that use natural and biodegradable materials made of bamboo, jute canvas, coconut fiber ropes and stones placed inside the base of the bamboo with purse seine corks or floats wrapped with non-entangling net for buoyancy on the surface. These bio-FADs have about 95% biodegradable materials and it's specifically designed to encourage fish aggregation at the device when drifting in the open ocean, and to reduce the impact of ghost fishing*, beaching and marine debris. A bio-FAD data collection document is to be completed by the vessel captain on design, identification, activity and catch as part of the trial project. CFC relies on FADs as part of its successful fishing operations and promotes sustainable fishing practices with the new bio-FAD construction designs.
More research is needed in bio-FAD design construction and CFC is taking the lead in the FSM fishing industry to help promote better designs to reduce bycatch, beaching and plastic pollution in the WCPFC.
*Ghost fishing: Any discarded, lost, or abandoned fishing gear in the marine environment has the potential to continue to fish, trap, entangle and potentially kill marine life.