FSM going forward with the Technical Cooperation Project for the introduction of hybrid power generation system with JICA
Details

Category: News
Published: Monday, 30 November -0001 00:00
Written by Bill Jaynes
Hits: 2442
JICA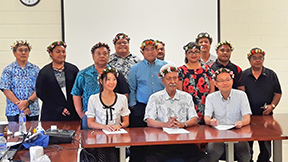 The Japan International Cooperation Agency (JICA) has started the "Project for the Introduction of Hybrid Power Generation System in Pacific Island Countries" since March 2017. This is a 5 years' technical cooperation project targeted for 5 pacific island countries; Fiji, Tuvalu, Kiribati, RMI, and FSM. The aim of this project is to promote the deployment of a hybrid power generation system composed of Diesel Generators (DG) and Renewable Energy (RE) by providing technical support for the appropriate & economical operation and maintenance of DG as well as for the appropriate integration of RE, and operation and maintenance of RE. For this purpose, JICA offers technical assistance through Chief Advisor, Mr. Ogawa, from JICA Headquarters and a consulting team from Okinawa Prefecture, Japan in each states of the FSM, as well as inviting counterparts for trainings in Okinawa, and Fiji.
On January 24, 2020, the 3rd Joint Coordinating Committee (JCC) meeting was held in Yap at the Yap Early Childhood Education Conference room with attendance from the Department of Resources & Development of the FSM, Lieutenant Governor of Kosrae as a special guest, Kosrae Utilities Authority (KUA), Yap State Public Service Corporation (YSPSC), Chuuk Public Utilities Corporation (CPUC), Pohnpei Utilities Corporation (PUC), JICA Micronesia, and the expert team.
Through this 3rd JCC meeting chaired by Hon. Marion Henry, Secretary of Department of Resources & Development, the FSM side and JICA discussed the progress of the project activities based on Project Design Matrix (PDM), Plan of Operation (PO), and Project Monitoring Sheet for project evaluation. Both sides proceeded to update the project counterpart team and assignment of officials. It was agreed that counterparts will potentially be the core trainers with expectation to transfer technical knowledge and skills to other members periodically within the project duration. Both sides carried on to actively discuss future project seminars and the upcoming 3rd Country Training in Fiji. Simultaneous to this 3rd JCC, was an ongoing Diesel Generation Training for core mechanics and engineers from each state utilities.
Kosrae Utilities Corporation (KUA) later provided updates on the current condition of the training equipment donated to KUA under the project. According to the General Manager of KUA, Mr. Fred Skilling, equipment are in great condition since the handover and KUA is looking forward to hosting the next Project Seminar.
Furthermore, Secretary Marion Henry and Chief Advisor of the Project Mr. Ogawa were invited to V6AI Radio Station for an interview about the project purpose and current highlights of renewable energy on the island of Yap.
The Minutes of Meeting was signed by Honorable Marion Henry; Secretary of Department of Resources & Development, Mr. Tadayuki Ogawa; Chief Advisor of the project, Ms. Emi Teshima; Project Formulation Advisory of JICA-FSM.