COM signs letter of agreement with USAID Climate Ready
Details

Category: News
Published: Thursday, 23 April 2020 22:03
Written by Bill Jaynes
Hits: 4872
By Bill Jaynes
The Kaselehlie Press
March 1, 2020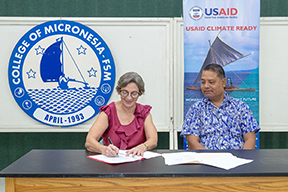 Pohnpei—This morning, Patterson Shed, USAID Ready's Regional Coordinator and Karen Simion, acting President of the College of Micronesia FSM signed a letter of agreement previously agreed to and signed by a representative of the University of the South Pacific regarding Climate Ready training courses.
Climate Ready is a five-year regional project, funded by the United States Agency for International Development (USAID) and implemented by DT-Global, a United States based institutional contractor with worldwide experience implementing environment programs.
Climate Ready works in 11 Pacific Island Countries (PICs): Federated States of Micronesia, Fiji, Kiribati, Palau, Papua New Guinea, Republic of the Marshall Islands, Samoa, Solomon Islands, Tonga, Tuvalu and Vanuatu. Climate Ready works with Pacific Island Country governments and other stakeholders to prioritize areas of support that align with their climate and disaster resilience plans and goals to:
1) draft and implement policies that achieve national adaptation goals; (2) access and utilizeinternational sources of climate financing; and (3) improve systems and expertise to better manage and monitor adaption projects. As part of its capacity building program Climate Ready contracts the services of local and regional providers to provide training programs, qualified trainers and venues.
Climate Ready seeks to support the delivery of accredited training courses through its partnership with USP, in a range of topics to government and private sector/NGO staff in FSM in a cost-effective way using blended modes and online modes of delivery. The courses, including project management, resilience and procurement and supply will be provided at appropriate venues provided by the College of Micronesia-FSM.
COM-FSM has agreed to provide the necessary logistics for the delivery of the courses including the provision of appropriate venues for the delivery of face-to-face components of courses and trainings. It will also provide additional logistical support as required, including but not limited to internet services and printing.
Climate Ready has agreed to work with country partners to identify suitably qualified and motivated men and women to participate in the agreed training programs; provide COM-FSM and USP with sufficient time to be able to schedule and resource the courses; ensure that there are equal opportunities for both women and men to participate in the courses; and to work with local partners to ensure active participation and on-going monitoring of course participants.