The FSM delegation attends video conference of health experts on COVID-19 between China and Pacific Island Countries
Details

Category: News
Published: Thursday, 23 April 2020 22:39
Written by Bill Jaynes
Hits: 3934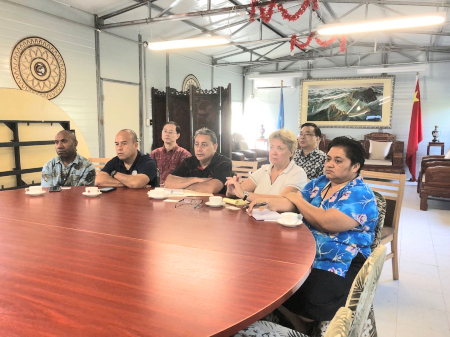 On March 10, 2020, China and Pacific island countries held a video conference to share experience and information on fighting COVID-19, bringing together officials from Chinese Ministry of Foreign Affairs and National Health Commission, Chinese health and epidemiological experts, and officials and health experts from all 10 Pacific island countries that have diplomatic relations with China, namely, the Federated States of Micronesia, Vanuatu, Papua New Guinea, Fiji, Tonga, Samoa, Solomon Islands, Kiribati, Cook Islands and Niue. Among the 100 plus participants of the conference, the FSM delegation was led by Mr. Moses E. Pretrick, Acting Secretary of Health and Social Affairs, and composed of Ms. Lisa Barrow, Epidemiology and Laboratory Capacity for Infectious Disease Coordinator, Mr. Patrick Carl, Chief of Fire of Pohnpei State Department of Public Safety, and representatives of the national and Pohnpei State coronavirus task forces. H.E. Huang Zheng, Chinese Ambassador to the FSM, also attended the conference with the FSM delegates at the Chinese Embassy in Palikir.
The Chinese side briefed on the latest developments in relation to China's fight against COVID-19, saying that President Xi Jinping personally commands and deploys the epidemic prevention and control efforts and the situation is increasingly trending in a positive direction, with production and normal life gradually resumed in China. President Xi is now in Wuhan, Hubei Province, the epicenter of the epidemic for an inspection on the prevention and control work. China has full confidence, capability and determination to win the battle against the epidemic. Meanwhile, China is working hard to achieve this year's socio-economic development goals. Upholding the concept of a community with a shared future for humanity, China has been actively engaged in international cooperation in an open, transparent and highly responsible manner. China and Pacific island countries are both developing countries. China relates to the special difficulties Pacific island countries are facing in their response to COVID-19 and has promptly briefed relevant countries on related information, and taken strong measures to safeguard the health and safety of foreign nationals and international students in China from Pacific island countries. China wishes to join hands with Pacific island countries to step up information sharing, deepen cooperation on epidemic prevention, work in the spirit of solidarity and mutual assistance to break through the current difficulties, and protect regional and global public health security. China stands ready to provide necessary support and assistance within its means to Pacific island countries in their epidemic prevention and control efforts as the situation evolves.
Professor Wu Zunyou, Chief Epidemiologist of the Chinese Center for Disease Control and Prevention and Professor Wang Guiqiang, Chairman of the Department of Infectious Diseases of Peking University First Hospital briefed on the etiology, routes of transmission, epidemiological developments, China's response and clinical treatment and answered dozens of questions regarding the viral information, protective measures for medical staff, targeted prevention and control, port of entry screening and quarantine, therapeutic solutions and vaccine development.
Acting Secretary Pretrick, along with the other officials and experts from Pacific island countries, praised China's outstanding achievements in fighting COVID-19 and major contributions to the global public health security, saying that China's experience has set a high standard and a good model for Pacific island countries, including the FSM, in their response to the epidemic. By personally going to Wuhan, President Xi Jinping effectively boosted the morale and confidence of the Chinese people to overcome the disease and sent a positive signal to the international community that the epidemic will surely be contained. They expressed deep appreciation for China's initiative to hold the video conference and share China's experience, which they believe has provided timely and helpful information for the work in their respective countries. They added that virus respects no borders and friendship withstands the test of time. As China's good brothers and good partners, the FSM and the other Pacific islands countries look forward to enhancing cooperation with China in epidemic prevention and control and triumphing over COVID-19 together, as part of our concerted efforts to build a community with a shared future for humanity.