COM-FSM Traditional Navigation Program and canoe launch
Details

Category: News
Published: Thursday, 23 April 2020 22:41
Written by Bill Jaynes
Hits: 4338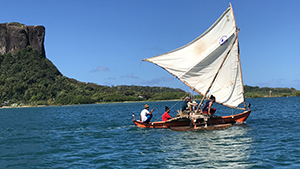 On March 7, 2020, the College of Micronesia-FSM traditional canoe was launched for the very first time to help promote the upcoming Traditional Navigation Program scheduled to start on June 1, 2020 at FSM-FMI in Yap in collaboration with Okeanos Foundation. The canoe sailed from the causeway leading to the airport to Nihco Marine Park where the Yapese Community of Pohnpei celebrated Yap Day and sailed around for all to see. The wind was very good for sailing that day so it took the canoe about two hours to get to Nihco Beach. The next day, the students sailed the canoe back to the causeway and transported the canoe back to the National Campus Weriyeng Canoe House. This was a historic event for the people of Pohnpei to watch a canoe of that size sailing around its coast.
The college is promoting alternative sustainable water transportation for the future of the people of FSM. We hope canoe builders from Kosrae, Pohnpei, and Chuuk can come forward to build canoes to revive our traditional knowledge, not only traditional navigation but also canoe building or craftsmanship.
The college in collaboration with Okeanos Foundation is recruiting ten students for the upcoming Traditional Navigation Program "Traditional Navigation and applied Seamanship on offshore sailing canoes". This program will be held on the FSM-FMI campus in Yap and students will finish the first level in one year. Interested students must be citizens of FSM, high school graduates, and healthy individuals. The program will be taught by Grand Master Navigator Ali Haleyalur of the Weriyeng School of Navigation, one of the last two schools of traditional navigation. Weriyeng means "Seen/see winds", indicating that the canoe can catch all winds or can catch wind from all directions. The applied Seamanship part of the program will be taught by Okeanos Grand Master Navigator Peia Patai.
Anyone interested in joining the traditional navigation program should contact one of the following:
Tioti B. Teburea at This email address is being protected from spambots. You need JavaScript enabled to view it.
or
Karen Simion at This email address is being protected from spambots. You need JavaScript enabled to view it.