Patrick Gorong—young Yapese making a difference in resource management in Hawaii
Details

Category: News
Published: Thursday, 23 April 2020 22:52
Written by Bill Jaynes
Hits: 3822
By Bill Jaynes
The Kaselehlie Press
March 19, 2020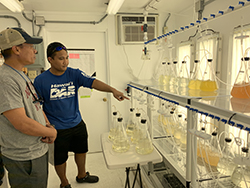 Hawaii—For the last two years, Patrick Gorong of Yap, FSM has worked as a Hatchery Technician as part of the Aquatic Invasive Species – Sea Urchin Hatchery project. The project which is under the Division of Aquatic Resources of the Department of Land and Natural Resources focuses on the removal of invasive algae that was introduced into Kaneohe Bay.
Gorong said that the project is tackled in two parts. One is mechanical removal where a field team surveys and removes invasive algae from the reef. The other is the introduction of sea urchins that are produced in an aquaculture facility and planted in the bay as a biological control.
"At the hatchery our main goal is to produce healthy sea urchins, specifically the Tripneustes gratilla, for out planting into Kaneohe Bay," he said. "As of about a year ago I became our main algae technician where I focus on culturing phytoplankton for use as feed for the urchins during their planktonic larval phase which usually only takes up the first half of a regular workday for me. The rest of the day I help with regular hatchery routines such as feeding settled urchins, cleaning tanks, and harvesting sea urchins ready for out planting as well as assisting with daily tasks that come with running an aquaculture facility." He said he also performs other tasks such as repair, maintenance, and plumbing of tanks, water pipes, air lines, and other tasks.
He said that what he most enjoys about his job is learning about aquaculture from the day to day work that he does at the hatchery from his coworkers and from his boss, David Cohen who has been in the industry for long time.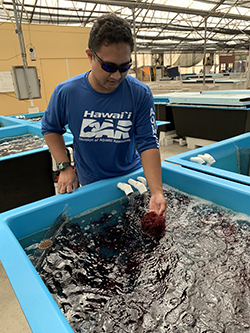 He said that he majored in Marine science in college and so has limited aquaculture understanding but that he is grateful for the experience gained from being part of the project. While in college he worked with the Pacific Aquaculture and Coastal Resources Center (PACRC) in Hilo, Hawaii as a student technician. There he learned the basics of aquaculture work and gained a general understanding of how an aquaculture facility is operated. He said that he learned concepts such as the importance of air, water quality, and cleanliness as well as gaining experience with PVC plumbing and basic fabrication but he has learned much more since then.