Grant contract signing ceremony for the project for procuring woodchipper in the Awak Community, Pohnpei State
Details

Category: News
Published: Thursday, 23 April 2020 23:11
Written by Bill Jaynes
Hits: 4556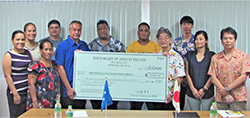 On March 18, 2020, the signing ceremony for the Project for Procuring Woodchipper in the Awak Community, Pohnpei State was held at the Embassy of Japan to provide Micronesia Conservation Trust with the funds up to US$ 72,923 under the Grant Assistance for Grass roots Human Security Projects by the Government of Japan.
This project will provide a woodchipper and a small truck, and renovate the storage facility to ensure sufficient and consistent supply of woodchips to the farmers along the Awak River in U Municipality in order for them to operate their Dry Litter Piggery System appropriately, and to keep the Awak River and surrounding areas clean and safe and avoid the spread of infectious diseases which may be caused by excreta of pigs, contributing to the health of the people there.
The Dry Litter Piggery System is a method which can prevent contamination of drinking and washing water by excreta of pigs, and produce inexpensive manures by mixing excreta of pigs with woodchips sterilized in the mixing process.
At the ceremony, Mr. William Kostka, Executive Director of Micronesia Conservation Trust expressed his gratitude for the assistance from the Government of Japan, and stated that this project would ensure a clean and safe environment for the Awak Community.
Ambassador Sobashima Hidenobu stated that this project would benefit about 900 people living along the Awak River, and about 50 farmers who would receive the woodchips, and their family members, as they would avoid hygine and health problems, and hoped that the project would proceed smoothly to contribute to the sustainable economic and social development of U Municipality, Pohnpei State, as well as the FSM.
The ceremony was attended by Mr. William Kostka, Executive Director of Micronesia Conservation Trust (MCT), Mr. Pakardy Ramirez, Vice President, and Mr. Loatis Seneres, Secretary and Treasurer, both from Awak Farmer's Association (AFA), Mr. Santiago Joab, Jr., Livelihoods Program Manager of MCT, Ms. Shirley Ann Pelep, Ms. Jo Lynne Mori, Senior Grants Officer of MCT, Ms. Elino Ramirez, Member of AFA, as well as members of the Embassy of Japan in the FSM.