Royal Australian Navy celebrates 119th birthday
Details

Category: News
Published: Thursday, 23 April 2020 23:15
Written by Bill Jaynes
Hits: 4284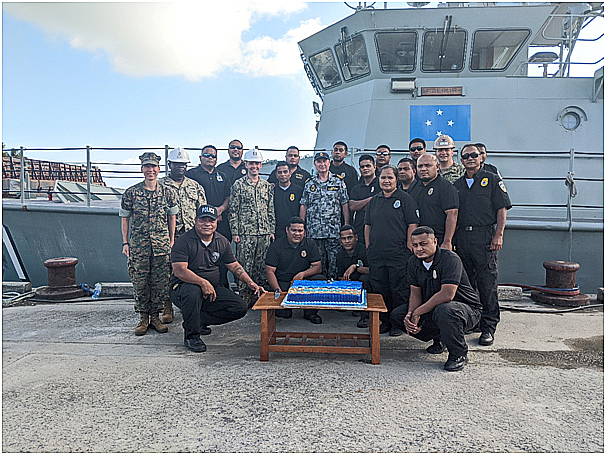 The Maritime Surveillance Adviser to the Federated States of Micronesia (FSM), LCDR David Perry RAN took time out from his visit schedule to the State of Yap to celebrate the Royal Australian Navy's 119th birthday on 01 March. The crew of FSS Palikir, LCDR Paulino Yangitesmal, US Defence Attaché to FSM, LTCOL Erin Richter as well as members of the US Navy Seabee Naval Mobile Construction Battalion 5 were in attendance for the birthday celebration held at the National Police base wharf in Yap.
Crew from the United States Coast Guard Cutter Kiska were also planning to attend but the vessel was required to depart early to commence SAR activities for a local fisherman and his son reported missing off Chuuk. On completion of the birthday celebrations FSS Palikir also departed for SAR duties off Chuuk.
Whilst in Yap LCDR Perry met with the LT Governor, HON Jesse Salalu and the assembled Legislature to provide a brief on the Pacific Maritime Security Program as well as details of the two new Guardian class Patrol Boats that will be gifted to FSM in 2022. Briefs were also provided to the traditional Chiefs of Yap during meetings with the Council of Tamol (Yap Outer Island traditional Chiefs) and the Council of Pilung (Yap outer islands traditional Chiefs).
On completion of the formal meetings LCDR Perry joined the Governor, LT Governor, Traditional Chiefs and other dignitaries at the traditional Yap Day celebrations. This celebration is held annually on the 1st of March and is recognised as one of the worlds leading traditional cultural festivals.