Grant contract signing ceremony for the project for construction of new recycling center, Pohnpei State
Details

Category: Opinion
Published: Thursday, 23 April 2020 23:41
Written by Bill Jaynes
Hits: 1469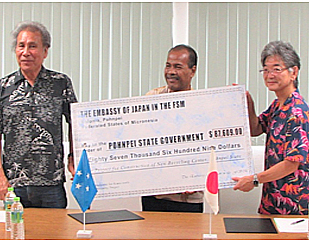 On March 19, 2020, the signing ceremony for the Project for Construction of New Recycling Center, Pohnpei State was held at the Embassy of Japan to provide Environmental Protection Agency, Pohnpei State with the funds up to US$87,609 under the Grant Assistance for Grassroots Human Security Projects by the Government of Japan.
This project will construct a new recycling center for efficient recycling activities, contributing to improved traffic and hygiene environment in Pohnpei State. The new recycling center will be able to collect and pressure 4 million additional cans compared to the current recycling center.
At the ceremony, the Hon. Feliciano Perman, Lieutenant Governor of Pohnpei State expressed his gratitude to Japan for its continues support for the people of Pohnpei.
Ambassador Sobashima Hidenobu stated that Japan decided to finance the construction of a new recycling center, as the current recycling center was not collecting a large number of cans properly, causing traffic and environmental problems and hoped that the new recycling center would improve the traffic and environmental problems and nurture the culture against littering.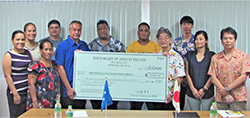 Mr. Henry Susana, Executive Officer of Environmental Protection Agency (EPA) expressed his appreciation for the cooperation from the Embassy of Japan and a JICA volunteer and looked forward to the completion of the project.
The ceremony was also attended by Mr. Stuart Penias, Secretary Board of Directors of EPA, Ms. Shirley Ligohr, Overseas Development Assistance, Mr. Patrick Pedrus, Public Information Officer, Mr. Brad Soram, Specialist, EPA, and Mr. Josep Victor, Specialist, EPA, ; all from Pohnpei State Government, as well as Mr. Okiguchi Ryota, JICA Volunteer and members of the Embassy of Japan in the FSM.