Private Japanese citizens in Pohnpei donate to the FSM fight against COVID-19
Details

Category: News
Published: Thursday, 23 April 2020 23:53
Written by Bill Jaynes
Hits: 7228
By Bill Jaynes
The Kaselehlie Press
March 25, 2020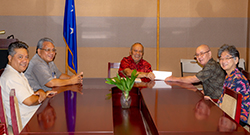 Palikir, Pohnpei, FSM—This morning representatives of the Pohnpei Japan Club presented a donation of $1000 from the Japanese community in Pohnpei to Dr. Livingstone Taulung, Secretary of Health and Social Affairs. "Pohnpei Japan Club decided to collect the donations from among Japanese people living in Pohnpei to make their contribution to the FSM's fight against COVID-19," said Japanese Ambassador to the FSM, Sobahshima Hidenobu.
In addition to the Ambassador, Koji Akinaga, Pohnpei Japan Club Vice President represented the club and presented the check to FSM Vice President Yosiwo George. They challenged other groups to do the same. Both the Vice President and Secretary Taulung thanked the members of the club for the gesture.
Ambassador Sobahsima told the Vice President that the Embassy of Japan received the request last month for assistance from the government of the Federated States of Micronesia and has conveyed that request to the government of Japan immediately. He said that it may take some time before his government makes a decision on that request. He said that in the meantime Japan decided to contribute 15.5 billion Yen (approximately $143.5 million) to relevant international organizations for their work against COVID-19, including 5.5 billion Yen, or 46 million US dollars to the World Health Organization.
"The amount may be smaller than you have expected," the Ambassador said of the donation from the Pohnpei Japan Club. "But I hope you could appreciate the gesture of the Japanese community to express their solidarity to the FSM who kindly hosts them during this difficult time in the FSM. I am proud of this gesture and I am proud of the people who have donated. I hope that this donation, although not big, will be efficiently utilized for the FSM to fight COVID-19."