The FSM and the United States: Partners in fighting COVID-19
Details

Category: Opinion
Published: Wednesday, 31 March 2021 04:11
Written by Bill Jaynes
Hits: 346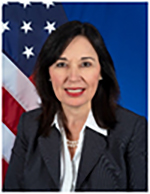 For a year now, our two countries have joined forces in the global effort to fight COVID-19, resulting in significant steps forward for the FSM. Led by senior health officials from both countries, lab testing facilities were expanded, public health professionals learned new testing techniques on several types of equipment, and tests were conducted in all four states as technicians honed their new skills. Recently, when health officials obtained the first positive COVID-19 test from a sailor aboard a ship anchored off shore, all of the correct procedures and protocols were followed, and while the FSM now has one "border case" there has been no transmission of COVID-19. This is a great testimony to the effectiveness of these preparations and to the competence of the FSM's public health professionals. With the United States now sending monthly shipments of the Moderna vaccine to the FSM, all four states have received doses of vaccine and public health officials are vaccinating people to protect them from COVID-19.
I have been moved by the close collaboration between health officials from our countries. As COVID-19 is a novel or new virus, we all have had to learn together how it spreads from person to person, what harm it does to our bodies, and how we can fight it. When my embassy team and I participate in calls between our top public health officials, we are impressed with the trust between them, trust that has been created by years of working side by side fighting common diseases. In those frank and open discussions, they deal with the challenges of fighting the new virus, share what they are learning, and compare notes. Only by these honest and transparent conversations can we effectively fight this global enemy.
Last week, the day after President Joseph R. Biden, Jr. was inaugurated, he issued the National Strategy for the COVID-19 Response and Pandemic Preparedness. In his strategy, the President pledged to listen to science; to ensure health decisions are informed by health professionals; and to promote trust, transparency, common purpose, and accountability in our government. H.E. President David W. Panuelo shares these same values, issuing transparent and informative press releases to Micronesia's public about COVID-19 status, and especially about highlighting the need for vaccinating all those who are eligible. FSM's President and other government officials led by example, being vaccinated in public and sharing their reactions.
Just prior to President Biden's televised announcement, Dr. Anthony Fauci, Director of the National Institute of Allergy and Infectious Diseases at the National Institutes of Health, and I had the opportunity to talk about COVID-19 in Micronesia and some of the concerns that I heard from people living in the FSM. Dr. Fauci was up at 3 AM that day to talk to officials in the World Health Organization, which the United States rejoined under President Biden, and to make an appearance on Good Morning America. Dr. Fauci would later be seen with President Biden for the announcement of the Biden-Harris Plan to beat COVID-19. Despite his busy schedule, he graciously agreed that we needed to meet to respond to the concerns raised by folks in Micronesia. He assured us that the Moderna vaccine is safe for all ethnic groups and equally effective in fighting COVID-19 as the Pfizer-BioNTech vaccine, about 94 to 95 percent. He pointed out that the pharmaceutical companies will start testing vaccines for young people to ensure they are safe for children and youth, and hopes those vaccines will be ready in the next few months. He told us that the estimated threshold for herd immunity for COVID-19 is having between 70 and 85 percent of the population vaccinated. Finally, he reminded us that even if we have been vaccinated, we still should quarantine for seven days when entering a country.
The close and abiding partnership between our two countries has been demonstrated in our common fight against COVID-19. The United States has committed more than 100 million dollars in funding to support the FSM to plan, prepare for and respond to COVID-19. In the coming months we will continue to learn together, to share our frustrations and successes, and to overcome challenges. It will take time and great effort, but we shall prevail. We truly are all in this together.
Ambassador Carmen G. Cantor