Micronesian boy, stranded abroad for one year after drifting to the Philippines, finally reunites with his family on Polowat
Details

Category: News
Published: Wednesday, 31 March 2021 04:49
Written by Bill Jaynes
Hits: 369
FSM Information Services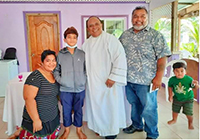 PALIKIR, Pohnpei—On February 9th, 2021, His Excellency David W. Panuelo—President of the Federated States of Micronesia (FSM)—received a genuinely heartwarming phone-call from Melson Dillipy, the boy from Chuuk State's remote island of Polowat, who confirmed he has been reunited with his family.
Melson—who has, with his family, given permission for his name and this information be shared— was in a fishing boat with members of his immediate family when the boat was lost in early March 2020. A search and rescue operation was implemented, inclusive of assistance from FSM patrol boats and the United States Coast Guard, but the boat wasn't found.
Citizens of the FSM from Chuuk State recognized Melson when his photo was taken and shown on a Filipino news broadcast. These citizens informed the FSM National Government of the development, who quickly moved to ensure that Melson would be assisted by the Nation's Honorary Consul in the Republic of the Philippines.
After several months in the care of the FSM's friends in the Philippines, Melson joined the crew (as a passenger) of the MV Chief Mailo—a National Government vessel that predominantly serves the remote islands of Chuuk State—which was otherwise undergoing drydock repairs at the time. In September, 2020, the MV Chief Mailo went to General Santos City in the Philippines where, after several COVID-19 tests and several months of waiting, the vessel eventually received clearance to enter the FSM.
On February 6th, 2021, the crew of the MV Chief Mailo received their first dose of the COVID-19 vaccine. That same day, an FSM patrol boat retrieved Melson to take him home to Chuuk State.
After a brief and warm reception in Weno, Melson successfully and safely made it home to Polowat the morning of February 9th, 2021.
"Something that must be said," President Panuelo said in a statement, "Is that we must all—Yapese, Chuukese, Pohnpeians, and Kosraeans—give a loving applause to Melson, his family, our friends in the Philippines, our crew on the Chief Mailo, and our first responders across the FSM for their efforts to safely bring this young man home. In what has been a difficult period for us all, it has no
doubt been in many ways unimaginable for us to put ourselves in Melson's shoes. He has demonstrated our Nation's best values of resiliency, endurance, and a positive attitude in the face of enormous challenges, and the Nation welcomes him back home to the FSM. I want to thank Chuuk State, including the Honorable Johnson Elimo and the Chuuk State COVID-19 Task Force, for being Micronesians first and for opening their hearts in welcoming Melson back home. I also want to thank the Honorable Robson Romolow for coordinating the call between Melson and I this morning. Welcome home, Melson!"