Pohnpei Public Library makes improvements for its patrons
Details

Category: News
Published: Wednesday, 31 March 2021 04:52
Written by Bill Jaynes
Hits: 290
By Pohnpei Public Library
February 12, 2021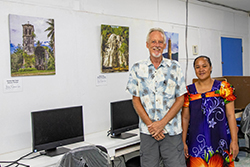 Pohnpei—The Pohnpei Public Library is starting the new year off with great gusto.
There is a lot that has been happening at your library, and we are proud to let everyone know.
The inside has been upgraded, especially in the children's section. New shelving was donated by the U.S. Embassy, and then with staff and volunteers, the entire children's library section was repainted. The hard work paid off and many thanks to all of the people who helped and made the improvements possible, including the U.S. Embassy and the Pohnpei Rotary Club.
We also want to thank the Pohnpei Fishing Club, who allow us to raise money at their fishing tournaments. Things were a bit slow due to the pandemic, but we still raised some money for new books and our video projects.
With the help of the Pohnpei Catholic School, Ardy George, and Jenna Panuelo, we are still conducting reading sessions of children's books and posting them on our web site and You Tube. Go check it out.
We also want to thank Bill Jaynes, a wonderful photographer who donated his art to grace the children's section of the library.
With all of these improvements, we do want to show off so please come to the library.
We are also seeking to cut costs and go green by installing solar energy panels to assist with the library.
There are many people to thank and who have supported us. Again, these contributions are very much appreciated.