EPA Board of Directors orders dredging to stop at Ipwal and Ohwa and dikes to be removed
Details

Category: News
Published: Wednesday, 31 March 2021 04:55
Written by Bill Jaynes
Hits: 374
By Bill Jaynes
The Kaselehlie Press
February 13, 2021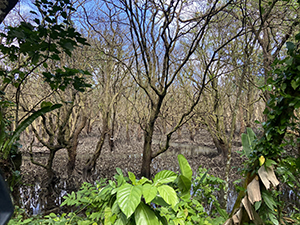 Pohnpei—On January 22, the Board of Directors of Pohnpei's Environmental Protection Agency (EPA) issued orders that dredge sites in the historic Ipwal mangrove forest and in Ohwa must be shut down and the dikes built to service the dredge sites removed.
In November, the EPA ordered Joseph Ferdinand, who had hired contractors to perform the dredging operation, to open up the dike to allow water to flow into the west of the mangrove. Today, Francisco Celestine of EPA said that the contractor did open up the dike to allow waterflow and that the natural mixture of fresh and salt water has eased the pressure on mangrove which was dying but he said the entire dike needs to be removed.
For now, there is no activity at the Ipwal dredge site. Celestine said that the EPA met with the contractors for that site who asked the EPA to give them two months to present a plan for removing the dike. The contractors asked for more time because of other contracts they were working on that deadlines during that time period. Because the drainage ways were opened in the dike and because there is not continuing dredging at the site, the EPA agreed to plan but Celestine says the timeline for establishing a removal plan will be strictly enforced.
The EPA board action on January 22 also ordered the complete closure of the Ohwa dredge site. Mr. Etse Zorro John holds the previously issued permit for that site.
Celestine said that previously the EPA had issued an order to stop activities at that dredge site but that the contractor refused to sign the letter and continued their activities. He said that activities have now stopped at that dredge site and that the Pohnpei Department of Public Safety is to enforce the EPA board order.
Celestine said that the EPA has begun a concerted campaign to ensure full compliance on all of Pohnpei's many dredge sites. He said that he expects that EPA will be forced to issue more orders for other dredge sites in the near future.