Japan donates new high capacity garbage truck to Madolenihmw Municipality
Details

Category: News
Published: Wednesday, 31 March 2021 05:18
Written by Bill Jaynes
Hits: 396
By Bill Jaynes
The Kaselehlie Press
February 25, 2021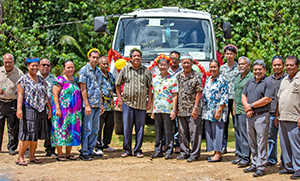 Madolenihmw, Pohnpei—This morning, the Madolenihmw Municipal Government celebrated the arrival and presentation of a new garbage truck provided by the government of Japan. The garbage truck, which cost $89,647 including freight, training and wharfage, was provided under Grant Assistance for Grassroots Human Security Projects by the Government of Japan.
"We understand that the Madolenihmw Municipal Government plans to mobilize the Garbage Truck delivered, periodically to collect wastes from each area of the Municipality every month, and the Truck will reduce sizes of the wastes so that it will be able to collect 22 times larger amount of the wastes compared to the current capacity of waste collection," Japan's Ambassador Sobashima Hidenobu said during his speech at the event. "This will be in conformity with the Osaka Blue Ocean Vision that aims to reduce additional pollution by marine plastic litter to zero by 2050 through a comprehensive life-cycle approach announced in the G20 Osaka Leaders' Declaration in June 2019."
Meninkeder Lapalap Madolenihmw John Rensle and Senator Shelten G. Neth gave opening remarks during the ceremony after which group photographs were taken.