We are the Pohnpei State FSM Girl Scouts!
Details

Category: News
Published: Wednesday, 31 March 2021 05:22
Written by Bill Jaynes
Hits: 328
By Abigail E. Alosima
February 20, 2021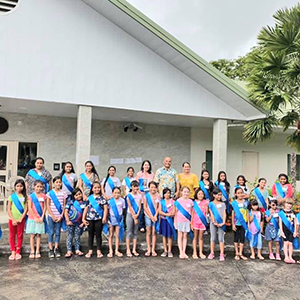 We are the Pohnpei State FSM Girl Scouts. By working together, we have learned to help each other accomplish our goals, learn new things about our community, our culture and to be prepared for the future. We work together to develop a plan that is helpful for our community. Planning a meeting is not just about activities and arrangements (although those are important too), it is about creating a safe place where Girl Scouts can grow, build relationships, take on responsibilities, and thrive.
The Pohnpei State Girl Scouts started on May 23, 2020. On the first day, we were both thrilled and anxious to have the chance to meet new people. After open remarks from His Excellency FSM President David W. Panuelo and U.S. Ambassador Carmen G. Cantor, we received badges and encouragement to improve our community.
Since then, we have been doing many activities including the work of our firefighters, the importance of CPR and safety training, and the importance of local agriculture and plants. We learned about climate change, precautions for the COVID-19, making friends, treating each other equally, and we supported an anti-bullying campaign. We also organized an island clean up and food drive for the drought victims in Kapangamarangi.
Being a Girl Scout means stepping out of your comfort zone to meet the needs of others. We have learned so much about leadership, teamwork, responsibility, respect, and communication. When it comes to calamities in our community, we always lend a helping hand by attending to their needs and more. Attending the Girl Scout allows us to enhance confidence, and to make a difference to the world!