Sokehs Rebellion Day celebration in combating COVID 19 and NCD
Details

Category: News
Published: Wednesday, 31 March 2021 05:24
Written by Bill Jaynes
Hits: 380
International Organization of Migration
February 24, 2021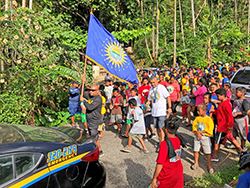 Pohnpei—The Sokehs Municipal Government and the International Organization of Migration IOM) sponsored an event for the 2021 Sokehs Rebellion Day. The event was held on February 24 at the Sokehs Municipal Government.
The 2021 Rebellion Day invited parents, students, youth, women's groups, and the public to participate in a fun walk, which started at 9 a.m. Safety information was given to all participants including identifying the water points. Sohkes Police Officers, one bus, and an ambulance escorted the participants during the walk.
The program of the Sokehs Rebellion Day opened with a prayer followed by two speeches from the Honorable Michael Lieman, Chief Magistrate of Sohkes Municipal Government and Mr. Herman Semes, Jr., representing IOM. In his speech, Chief Magistrate Lieman stated that the Sokehs Municipal Government has partnered up with IOM and this year's Rebellion Day event was focused on COVID-19 and non-communicable diseases (NCDs), since Pohnpei declared a state of emergency for both.
Mr. Semes, Jr. added, "We are here to support the Sokehs Municipal Government's call to rebel against COVID-19 and to practice good hygiene. If we work together and make sure to wash our hands, wear mask, and to practice physical distancing, we will greatly reduce the chance of spreading COVID-19 between our friends and family…. the USAID is generously supporting IOM to implement a wide range of COVID-19 preparedness activities in FSM, for example, the COVID-19 Response: Strengthening Preparedness across the North Pacific project."
The fun walk ended around 11 a.m. Roughly over 200 people attended the fun walk, showing the will and strength of the people to rebel against COVID-19 and NCD. Students who completed the Fun Walk also received notebooks and pencils donated to the Sokehs Municipal Government by IOM.