Japan Embassy hosts Emperor's Birthday reception- "New Normal Way"
Details

Category: News
Published: Wednesday, 31 March 2021 05:46
Written by Bill Jaynes
Hits: 496
Embassy of Japan in the FSM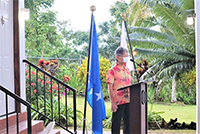 On Thursday March 4, 2021, Mr. Hidenobu Sobashima, Ambassador of Japan hosted a reception to celebrate the birthday of the Emperor of Japan, at his residence, with a smaller number of guests than last year, from the Government of the Federated States of Micronesia, the Diplomatic Corps, and business community, providing masks to the guests, distancing seats 6 feet from each other at the beginning, placing sanitizers everywhere, and serving food in small individual plates, in a "New Normal" way.
In his address, Ambassador Sobashima introduced that the Emperor of Japan who had become 61 years old on February 23, 2021 sympathized with the people having a difficult time due to the COVID-19, valued the relationship between Japan and the FSM, including in the context of the Free and Open Indo-Pacific, and reviewed the past year, explaining various cooperation offered from Japan to the FSM, showing a strong Kizuna between the two countries.
He then appreciated the donation of the COVID-19 vaccine from the United States, and, hoped for a better year in 2021, with the progress of vaccination in the FSM.
The Hon. Kandhi Elieisar, Secretary of Foreign Affairs who represented the Government of the FSM, congratulated the birthday of the Emperor of Japan, expressed the sympathy to the Japanese people who were suffering from COVOD-19 as well as the recent earthquake which had hit Fukushima and its neighboring Prefectures, and thanked Japan for its cooperation to the FSM.
After the toasts, the guests enjoyed conversations over various small pieces of food served in a new normal way, with such drinks as Sake, Japanese beer and Japanese wines, among others.