Scripps Howard Spelling Bee names top Pohnpei spellers
Details

Category: News
Published: Wednesday, 31 March 2021 06:04
Written by Bill Jaynes
Hits: 483
Rotary Club of Pohnpei
March 3, 2021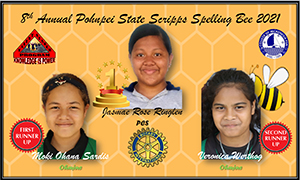 Pohnpei—The Scripps Howard spelling bee has become an annual event here in Pohnpei. There is a lot of competition to be the winning speller and to be the Pohnpei champion. Unfortunately, COVID 19 has also affected the spelling bee this year. The spelling bee was able to go forward on Pohnpei which is COVID free, but usually the top winners also get a chance to compete in the regional spelling bee in Guam.
This year, no trips can be made off island so the winners only have bragging rights in Pohnpei.
That is still a major accomplishment and the students should be very proud of themselves.
This year the following schools participated.
Participating Schools:
Ohmine Elem. School
Kolonia Elem. School
Nett Elem. School
Awak Elem. School
Saladak Elem. School
Lukop Elem. School
Sapwalap Elem. School
Pohnpei Catholic School (PCS)
Nanpei Memorial School (NMS)
Each school had its own preliminary competition, to select their champions and then a state bee was held on March 3.
The Department of Education and the Talent Search Program ran the individual bees. The Pohnpei Rotary Club was a major sponsor of the event and it contributed the entry fees for all the competing schools.
The State competition was held in the Pohnpei Legislative chambers on March 3. Students that are joining the State competition bee were from grade level 5th to 8th, with a total of 35 students all.
5th grade – 2 students
6th grade – 2 students
7th grade – 6 students
8th grade – 25 students
It was a hard fought competition, and numerous rounds had to be completed to determine a winner. Congratulations are due to the following students and we want to say they are better spellers than most of the adult readers of this article.
Winners:
Champion: Miss. Jasmae Ringlen (PCS) 7th grade, parents Jayceleen and Moses Ringlen
1st Runner Up: Miss. Moki Ohana Lawrence Sardis (Ohmine) 8th grade, parent Molly Lawrence
2nd Runner Up: Miss. Veronica Werthog (Ohmine) 8th grade, parents Rose and Patrick Werthog.
The championship word: "Camembert", which is a pretty cheesy word to end the competition on.
Other words that needed to be spelled to reach the championship were: Thalassic, Frazil & Glacis.
The winners received gifts and prizes from our sponsors, Ace Office Supplies and Black Sand Corporation. Many thanks to them for their support.
It was another successful spelling bee and we hope we can continue to provide this opportunity to our students in the future.