Ike Perman Solomon Student Take-Over Day reflections
Details

Category: News
Published: Wednesday, 31 March 2021 06:08
Written by Bill Jaynes
Hits: 763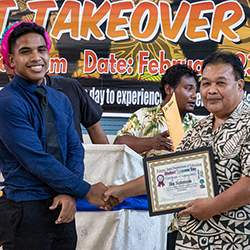 On February 23rd, I was given the thrilling opportunity of substituting the Honorable Oliver Reed as the Governor of Pohnpei. My name is Ike Perman Solomon, a senior at Our Lady of Mercy Catholic High School. Prior to this day, the Department of Education organized a plan to create Pohnpei's first-ever "Student Take-Over Day." With 21 students from Pohnpei's different high schools, each student "relieved" the duties of our state-department leaders for one day, taking their roles, responsibilities, and snug office chairs. After convening in the conference room at the Governor's building, the students went straight to their offices led by their employers.
As student governor of Pohnpei, I can say that this job was nowhere near easy. In fact, if it wasn't for my executive secretary, Miss Tracy, I would be lost and disoriented with the mess of documents in front of me. As governor, I learned I must review and forward grant requests to the appropriate departments, also giving me the ability to accept or decline these requests. In other words, I hold a lot of power. It was all worth it because after the tedious reading and reviewing, there was a sense of contentment whenever I would print my signature on these requests.
At the end of the day, the students and employers conglomerated in the main conference room to listen to the state leaders as they offered their words of wisdom. I especially liked the Honorable Governor Oliver Reed's and Speaker Ausen T. Lambert's vision. That being the state should legalize "Student Take-Over Day" and make it an annual event. Judging by their enthusiasm, their vision will happen sooner rather than later.
I hope "Student Take-Over Day" becomes an annual event because I can imagine future students benefiting from it as I did. From just one day, I familiarized myself with the faces of our leaders, experienced the workload, and absorbed the wisdom from said leaders. I am beyond thankful to our leaders, especially the Department of Education, for organizing this event. I look forward to future programs like this and any improvements they can make. I encourage any student reading this to partake in all programs made available to you. Before we become leaders ourselves, let us continue to follow our elders and take advantage of what they have to offer.