Launch of Pohnpei State Gender-Based Violence Standard Operating Procedure (SOP)
Details

Category: News
Published: Wednesday, 31 March 2021 06:10
Written by Bill Jaynes
Hits: 639
United Nations Population Fund (UNFPA)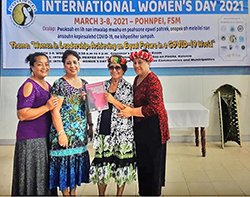 FSM, 10 March 2021 – as part of week-long celebration of International Women's Day, on 4 March, Pohnpei State Government in collaboration with United Nations Population Fund (UNFPA) Pacific country office in Federated States of Micronesia (FSM) and partners launched a Standard Operating Procedure (SOP) on Gender-Based Violence (GBV) for Pohnpei State.
A lot has been achieved in the area of GBV in FSM in recent years, including the passing of Family Protection laws in Kosrae and Pohnpei and a national Ending Voilence Against Women (EVAW) policy that is currently under final review. We recently marked the intensive 18 Day Campaign to End Violence Against Women, a global call to action, and a powerful reminder that our work to end GBV is unfinished.
The Chief of Social Services Division in the Pohnpei State Department of Health and Social Services Mr. Noriekka Lekka said that "violence against women and children is a major concern in a lot of countries and FSM is no exception". In 2014, the FSM government with support from Australian Aid and UNFPA, completed the first Family Health and Safety Survey which showed that one-third of ever-partnered women experienced physical/sexual violence in their life and one-quarter experienced physical and/or sexual violence in the last 12 months. Of concern to our families and communities is that some women experienced physical violence by a partner during pregnancy and almost half of those were punched in the abdomen by the father of the child.
Of concern to the health system, of those who have recently experienced violence, 41% were injured at least once; 11% lost consciousness; 9% were hurt enough to need health care. The major injuries included scratches, abrasions, bruises (77%); cuts, punctures, bites (47%); broken eardrums and eye injuries (22%). Attempted suicide was over double among women who experienced partner violence than among women who never experienced partner violence. The study also highlighted that despite the high levels of partner violence, nearly 90% of ever-abused women did not seek support. Indeed, only 6.4% accessed the police and 4.6 % accessed the health service and less than 2% of women sought the assistance of a religious leader or a women's group respectively.
These concerning figures portray the trauma and pain that women and families face when dealing with violence. It is important that women can trust the health services and health care providers to seek help. They need to be able to trust that health-care providers will listen to them, believe them, support them, provide the right clinical care and help keep them safe; that the health-care providers will not tell everyone about their situation; that they will not feel ashamed by telling their painful story. The development of this SOP was a collaboration between the FSM Department of Health and Social Affairs, Pohnpei Department of Health and Social Services, and UNFPA, and included clinicians, social workers and local support services. Much work was done to identify roles and responsibilities for health staff, and develop a clear referral pathway for women that would keep them safe.
Mr. Lekka said "we have made another important step today as we formally launch the SOP, with health-care providers to be trained to understand their roles and provide the care and confidentiality needed to keep women safe."