KOHWA's Healthy Home Project solicits donors to help needy and deserving Pohnpeians
Details

Category: News
Published: Wednesday, 31 March 2021 06:15
Written by Bill Jaynes
Hits: 677
By Bill Jaynes
The Kaselehlie Press
March 13, 2021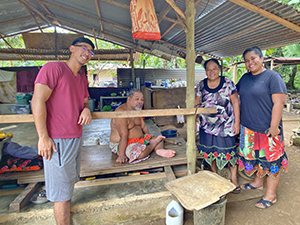 Pohnpei—Several months ago, Willy Kostka, Director of Micronesia Conservation Trust and a member of the Board of Advisors of KOHWA, posted on social media his concern for people in Pohnpei who live in substandard housing who have no resources to make their physical surroundings better—safer. He wondered what impact 1000 people donating $10 each per month could have on the lives of Pohnpeians in dire straits.
KOHWA, a local NGO that has been in existence since 2019, heard that call and started working toward making it happen. They are calling the program the Healthy Homes Project targeting senior or disabled citizens with little to no source of income. The first home they are attempting to renovate belongs to a family in Wapar, Madolenihmw and was selected by agreement of all of the members.
The home, such as it is, belongs to William Thomas and Relihna Tihpen who live on a subsistence level with the help of their grandsons who live with them. 11 years ago, William had a stroke and has been living with it effects since then. The family has no stable source of income. The home is open-sided with a tin roof on the edge of the mangrove.
KOHWA hopes to raise $13,000 to renovate the home which will cover the cost of a contractor and includes building supplies and labor costs. So far, they have raised just less than $2000 from 20 donors but their efforts have only just begun.
If KOHWA can reach their minimum funding goal of 1000 people donating $10 each per month, they could potentially help nine families per year and be on their way toward helping a 10th every year. But for now, their stated goal is to help one family per year at a cost of $13,000 per family.
KOHWA stands for Koupweliki Oh Wauneki Atail-sohso a phrase that speaks of deep respect for the heritage of Pohnpei, its land, its culture and its people. Its mission statement is, "We work with communities to improve sustainable practices and promote environmental stewardship through alternative livelihoods and community education on health, environment, and cultural heritage in Pohnpei." They have a vision for collaborative communities for a healthier, sustainable, and resilient Pohnpei.
Since KOHWA was founded its volunteer members have worked on several projects many of which are still ongoing. They have held clothing and household item drives for distribution to people in need of the items. They hope to take that project to some of the outer islands this summer. They are currently working collaboratively with Trash Kings, EFO, and the Green Society on placing decorated trash bins on the causeway. They have been actively involved in dredge site education and in lobbying to change what they say is currently an upside-down process. They are also working on a Pakin Women's garden.
Of course, their newest and possibly most ambitious project is the Healthy Homes project. Though they have a presence through their website, Instagram, and Facebook, word is only just getting out to the public. The Global Greengrants Fund provided funding for an excellent informative video on Youtube that covers their pilot project. That video can be found at https://youtu.be/dBwKe-iVGcI or by Googling "Youtube Healthy Homes Program". Their website address is www.kohwa-fsm.org. Information for making a donation or pledge to support the program can be found there. Their facebook page is "kohwa". Their Instagram account is "kohwa_fsm". They can also be contacted at 925-9854.
The members of KOHWA's Board of Advisors are William Kostka, Patricia Edwin, Jo Lynne Mori, Bejay Obispo, and Tom Kostka. Gordon Lebehn is the President. Daisy Falcam is the Vice President. Toa Nanpei is the Secretary, and the Treasurer is Leola Primo. The group currently also has 10 additional members.
Please donate to this truly worthy cause.