Chuuk's youth takeover Legislature
Details

Category: News
Published: Monday, 30 November -0001 00:00
Written by Bill Jaynes
Hits: 325
By: Island PRIDE & Chuuk Youth Council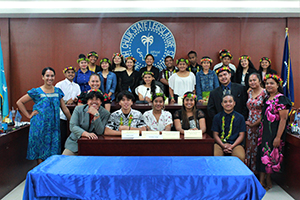 On August 14th, in a historic event, the young people of Chuuk took over the Chuuk State Legislature's House of Representatives Chambers, conducting their own mock session and passing their own Resolution speaking out against domestic violence. The takeover event was part of a 3 day celebration of International Youth Day organized by Island PRIDE (Promoting Resilience through Involvement, Development & Education) and the Chuuk Youth Council, which also featured a track & field day and Youth Leadership Conference on Aug. 12-13.
Culminating the celebrations was the Youth Takeover Legislature day where the following youth representatives ranging from ages 15- 23, and comprising of 9 males and 13 females, elected their own officers and representing their own districts were:
James Joseph (Floor Leader), Northern Namoneas
Givanleine Sana Suka (Vice Speaker), Upper Mwortlocks
Emerald Siren Hashiguchi (Speaker), Nomwisofo
Mahealani Mori, Northern Namoneas
Melorisa Mori, Northern Namoneas
JR Daytec, Northern Namoneas
Daniel Nakayama, Nothern Namoneas
Stelynn Kichiro, Southern Namoneas
Fredrick Francis, Southern Namoneas
Kilani Stinnett, Southern Namoneas
Melmarie Cheney Walliby, Southern Namoneas
Siniann Joseph, Southern Namoneas
Kiva Meno, Southern Namoneas
Jay Kaminanga, Nomwisofo
Martha Miochy Aten, PPO
Jetry Nifew, PPO
Memory Jayme Rudolph, Upper Mwortlocks
Milly-ika Lady Olyne Mori, Mid Mwortlocks
Arthur Irons III, Lower Mwortlocks
Kymo Roby, Lower Mwortlocks
Gayla Jamila Bisalen, Paatiw, Northwest
Gio Nedelec, Halls, Northwest
For their day in these seats, these young men and women chose to use this platform as a call to action on domestic violence, resulting in the unanimous passing of Resolution C.Y.L.A.R. NO. 01 with its heading
reading:
"To request and urge the Chuuk State Leaderships; State and Municipal governments and traditional leaders, to ensure that Chuuk State Youth are recognized and given the required support to prevent domestic violence and develop themselves into attaining better opportunities in life."
The session was filled with compassionate and compelling arguments made towards the need to improve Chuuk's social services for victims of domestic violence and strengthen protective measures with stronger legislation and penalties for perpetrators. Some of the representatives even gave their own personal testimonies in witnessing the damage of domestic violence and having friends their age who are suffering in silence.
Here's what some of them had to say:
"I'm here to represent the unheard and hidden voices of young women in my region. As a woman, I know and understand how it feels to be a victim of domestic violence and how agonizing it is to deal with it and to speak up for ourselves. Let's not let this issue thrive hidden forever." – Rep. Siniann Joseph
"Victims in our islands are voiceless because they do not know or have anywhere to go." – Rep. Milly-Ika Lady Olyne Mori
"Young adults and kids have committed suicide due to domestic violence…We should encourage youth groups and youth activities , making a difference one small step at a time." – Rep. Arthur Irons III
"Domestic violence affects the youth because bad company corrupts behavior" – Rep. Martha Miochy Aten
"Domestic violence is a trauma no child, woman or man should ever have to experience, therefore we must work to extricate this problem from our beloved islands." Rep. Gio Nedelec
"This experience gives me the feeling of hope that we can put domestic violence on the islands of Chuuk to an end." – Rep. Kilani Stinnett
The event ended with closing remarks from the Hon. Floor Leader Danny Mersai, commending the youth for speaking with such courage and confidence, jokingly adding that he thinks the law should be amended to lower the age to run for office to 16 after what he had witnessed and announced that the youth's resolution will be added to support the Family Protection Act that they are currently working on in the legislature, which addresses domestic violence and that he will also work on ensuring that a Youth Takeover Legislature event becomes an annual event in Chuuk.
On the overall experience of taking over the legislature, here's what some of the youth had to say:
"No words can express how proud and thankful I am for the opportunity We youth had, it has an huge impact on our future" – Floor Leader James Joseph
"It gave me the privilege to speak and to be the voice on behalf of my bothers and sisters of Chuuk State, and the motivation to work hard so that one day I can be a great leader and help the people of my island." – Rep. Fredrick Francis
"One particular thing that I've learned from this experience other than the way the House of Reps works, is SPEAKING UP. I've never been the voice of the unspoken because I've never had that confidence but I did it today and I've never felt so good, so CONFIDENT." – Rep. Stelynn Kichiro
Island PRIDE and the Chuuk Youth Council are committed to empowering Chuuk's youth and amplifying young voices to help shape a more just, inclusive and resilient future for our islands.