U.S. Ambassador holds panel discussion on "Lessons in Leadership" for International Youth Day
Details

Category: News
Published: Monday, 30 November -0001 00:00
Written by Bill Jaynes
Hits: 307
By Bill Jaynes
The Kaselehlie Press
August 14, 2020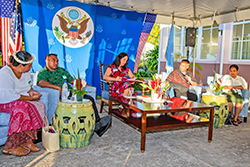 Pohnpei—This evening United States Ambassador Carmen Cantor hosted a "Lessons in Leadership" panel discussion and reception for youth organizations in Pohnpei.
Ambassador Cantor served as the moderator for the panel discussion. Panelists were Pohnpei State Senator Sendilihna Lekka, FSM Secretary for the Department of Finance, Micronesia Conservation Trust Executive Director Willy Kostka, and Micronesia Legal Services Corporation Directing Attorney Danally Daniel.
Ambassador Cantor had prepared questions for the leaders to help guide the discussion. Her first asked them to define the qualities of an effective leader. Some of the answers given were revealing of the leaders themselves and were difficult for them to answer but all had good responses for their definition of effective leaders.
Ambassador Cantor asked them what their most difficult leadership was and what happened as a result of that decision. That was a particularly difficult question for them to answer as it was specific to their organizations and though all of them answered most couched their answers in a way that would not specifically identify a specific and identifiable situation. However, Senator Lekka said that her most difficult decision was the decision on whether or not to run the risk to run for office as a woman. She said that she had to overcome a mentality from some of the voters that men were best suited for office. "Why send us to school then?" she asked them. She said that her running for office and winning resulted in a big change in the thinking in Nukuoro.
As the evening progressed, time for answering questions was limited and so Ambassador Cantor did not require an answer from each panelist for each remaining question. Someone from the audience asked for
advice on how women maintain respect while serving as leaders. The two female panelists responded to that question. Senator Lekka said that any leader should be themselves, should share, and get feedback.
Daniel said that a woman has to work twice as hard as a man in order to get to the same position. She said that a good leader, whether male or female should put God first and also work to educate themselves.
An audience member asked the panelists the particularly difficult question of what the worst decision they ever made was. No one specifically answered that question but Kostka said that he knows he's made a bad decision when he gets staff "push back". He said when that happens he definitely takes it to heart and reconsiders. He said that if he didn't value the opinions of his staff members, they wouldn't be there.
Before dinner was served, Ambassador Cantor announced 13-year-old Katrianne Kihleng as the winner of the 2020 Embassy Kolonia Virtual Art Contest. She unveiled the stunning pencil drawing of an eye with a reflection of the earth in the pupil. Katrianne was awarded a framed certificate along with an iPhone 11.