COVID-19 delayed Kahmar River Bridge at long last officially open for use
Details

Category: News
Published: Monday, 30 November -0001 00:00
Written by Bill Jaynes
Hits: 284
By Bill Jaynes
The Kaselehlie Press
August 20, 2020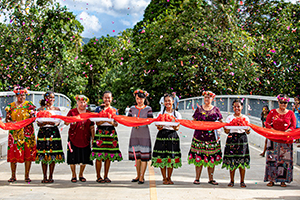 Pohnpei—In the blazing heat of the August 20 afternoon, dignitaries and interested others gathered at the site of the new Kahmar River bridge, which was entirely funded by the Government of the People's Republic of China.
The Kahmar Bridge is 56 meters long (~184 feet) and 10 meters wide (~33 feet), and represents approximately $3,200,000 (3.2 million dollars) of assistance. Originally signed in a Technical and Economic Cooperation Agreement in 2015, construction began on the Bridge on June 26th, 2019. While formal completion of the Bridge had occurred some months ago, the official opening ceremony was delayed due to requirements for proper vetting and inspection, which occurred electronically due to the unique situation imposed by the COVID-19 Pandemic.
"China and FSM share a long history of friendly exchanges. Since the establishment of diplomatic ties, the Chinese government attaches great importance to China-FSM relations, and the bilateral relationships have developed rapidly," said Ambassador Huang Zheng, China's Ambassador to the FSM during his lengthy speech. "China is willing to work together with FSM to build the Belt and Road into a road that is able to promote cooperation, safeguard health, recover economy and promote sustainable growth." Huang reiterated that "China and FSM will work together to create a brighter future for Belt and Road cooperation and to build a community with a shared future for humanity together.
"This bridge will become a symbol of our healthy Great Friendship between our two peoples," Vice President George said in his statement. "This bridge will not only connect our Governments and improve access to the inlands of Nett, but will also contribute to the economic and social development of Nett, Pohnpei more broadly, and the Great Friendship between the FSM and China."
Lt. Governor Feliciano Perman represented the Pohnpei State government and also thanked the government of China for the bridge, which he said would not only serve the nearby villages but contribute to the economic development and transportation needs of Pohnpei as a whole.
Ambassador Huang presented a portrait of the bridge to Vice President George who then presented it to Lt. Govenor Perman, who in turn handed it over to Nelsin Iriarte, Administrator of the Nett Municipal Government as a symbolic turning over of the bridge itself.
Iso Nahnken of Nett Salvador Iriarte gave the last words of the lengthy ceremony.
When the ceremony itself was completed, the ribbon was cut as brightly colored confetti floated down onto the participants.