The first APIPA virtual conference
Details

Category: News
Published: Monday, 30 November -0001 00:00
Written by Bill Jaynes
Hits: 438
Pohnpei Office of the Public Auditor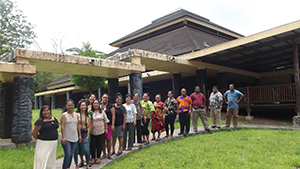 The Association of Pacific Islands Public Auditors (APIPA) has completed its 31st annual conference. This is the first virtual conference due to lockdown brought by COVID-19 pandemic. The conferences which was held in virtual setting ran from August 3 to 14, 2020. The APIPA conference provided the auditors for four
(4) hours a day of learning for a total of forty (40) continuing professional education credits (CPE). The virtual conference is an innovative approach by the US Graduate School to provide meaningful conference even in the midst of the pandemic. There were over eight hundred (800) participants registered in this annual conference; 12% from private sectors and 88% from the government sectors of Guam, US Virgin Island, Palau, Commonwealth of Northern Mariana Island (CNMI), Republic of Marshall Island, Fiji, Samoa and American Samoa, and Federated States of Micronesia (Yap, Kosrae, Pohnpei, Chuuk). This year's annual conference was chair and virtually hosted by the CNMI Public Auditors. There were fourteen (14) instructors in this year's annual conference.
The virtual conference was graced by welcoming remarks by Honorable Douglas Domenech, Assistant Secretary for Insular and International Affairs, US Department of Interior and key note speaker, Honorable Mark Lee Greenblatt, Inspector General, US Department of Interior.
Due to limited bandwidth, auditors from Office of the National Public Auditors (ONPA) and Pohnpei Office of the Public Auditor (POPA) joined for the opening plenary session at the Central Building at Palikir. Breakout sessions were held at the central building and at the conference room of ONPA.
Some of the most striking lessons that auditors from ONPA and POPA shared was from Honorable Greenblatt r: "Treat the organizations and our job as our own, not like we are just renting it." And from Honorable Domenech: "Despite the challenges of the pandemic brought to the world, accountability does not have boarders, no distance or time can separate public auditors from doing what is right".
Auditors from the Federated States of Micronesia adapted to the "new normal" and were able to learn despite the challenges brought by the COVID-19 pandemic. A commitment not only because of the auditing standards requirements but also because of their commitment to enhance their knowledge and skills to better serve the public.