Military "flyover" caps US Embassy commemoration of the end of World War II and Pohnpei Liberation Day
Details

Category: News
Published: Monday, 30 November -0001 00:00
Written by Bill Jaynes
Hits: 330
By Bill Jaynes
The Kaselehlie Press
September 11, 2020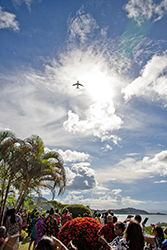 Pohnpei—On Pohnpei Liberation Day the US Embassy to the FSM hosted a reception commemorating the 75th anniversary of the end of World War II at the official residence of US Ambassador Carmen G. Cantor. World War II formally ended on September 2, 1945. Pohnpei was liberated from Japanese occupation on September 11 of that year.
Immediately upon entering guests were treated to a remarkable black and white photo display tastefully printed on canvas frames. The photos were from the World War II era and can now be seen on display at the Pohnpei Public Library until September 30.
Amanda Lih Abello sang the FSM and United States National Anthems to begin the ceremony.
Yvonne Hawkins read a beautiful poem of restoration that her grandfather wrote in 1945 for Pohnpei's Liberation.
Senator McGarry Miguel shared from his encyclopedic knowledge of Pohnpei history, the story of 179 men from Kitti who were taken by Japanese forces to Kosrae. When Kosrae was liberated on September 8, 1945, some of those men were repatriated to Pohnpei. Miguel, who has spent most of his life learning Pohnpei's history from those who lived through it and who orally passed it on to him would do well to put his knowledge into book form.
During the ceremony, the Kitti singers performed two traditional songs from the days of occupation. Miguel explained the significance of the songs during his speech.
FSM President David Panuelo addressed the crowd as well. His speech, quite often extemporaneous, began with his recalling his own memories of exploring World War II relics as a young boy, and evolved into a solicitation for all peoples and nations to practice empathy and embody peace with one another.
"It is a blessing that today Micronesians are joined by their American, Japanese, Chinese, and Australian friends alike," President Panuelo said, "Because today we share enduring friendship and partnership, committed to peace, friendship, cooperation, and—most of all—love in our common humanity. It is the memory of our collective suffering that we recognize that empathy is strength—not weakness."
Addressing His Excellency Hidenobu Sobashima, Ambassador of Japan to the FSM, President Panuelo said: "During my visit to Japan last October, to celebrate the Enthronement of His Majesty, the Emperor, I was most impressed with the peacefulness of Japan and the Peaceful Harmony of our Reiwa Era. While I read stories and history of a Japan that once knew war, the Japan that I know and have experienced is a Japan committed, and entirely devoted to, the promotion of peace and harmony amongst all peoples and nations throughout the world. It's one of the reasons we truly support Japan becoming a new and permanent member of the UN Security Council. It's why the FSM and Japan share a lasting special bond of Kizuna."
"…Today, we are also celebrating the 75th Anniversary of the founding of the United Nations, and the reminder of the Second World War," President Panuelo said. "What is needed in 2020 and beyond is World solidarity with one another. As we know in our hearts and have seen reinforced from our past, all human life is priceless and valuable. Empathy is not weakness—empathy is courage, and empathy is strength. It is through empathy, and a multilateral global community, that our World can overcome any challenge, including COVID-19 and Climate Change."
"I conclude," the President said, "by wishing everyone here peace in their hearts, and that war remains something that we imagine but never something that we have to experience again."
US Ambassador Cantor also addressed the crowd, beginning first with lengthy greetings in the Pohnpeian language, which onlookers claimed she did very well.
"WWII made an immense impact on virtually all the Micronesian islands," she said. "All were scarred by their experiences, Pohnpeians, Chukese, Yapese, Kosraeans, Americans, and Japanese. Micronesians were caught in the middle of what for them was a foreign conflict and suffered incredibly…In the 75 years that followed WWII, the Pacific has enjoyed relative peace, prosperity, and friendships. Where once animosity existed between the United States and Japan, and enduring alliance and partnership has grown. Former enemies have joined together to ensure a stable, free, and prosperous region, dedicated to the idea that together we can deter the spectre of war.
"Liberation not only reunited families but it led to the unification of a nation—the beginning of a federation of states with a unique and special relationship with the United States. Our bonds are strong…Let us never forget those who made the ultimate sacrifice to preserve our freedoms, our values, and our way of life. And let us celebrate the peace and partnership their sacrifice created for us today," she said.
Capping off the Embassy reception was a flyover by a KC-135 stratotanker refueling aircraft. It was the same plane that recently successfully spotted three missing fishermen from Chuuk State on Pikelot during a search and rescue operation earlier this year.
Many traditional, political, and diplomatic leaders and other invited guests attended the reception which ended after food was served.