School buses donated to Madolenihmw Municipality by Zhongshan city
Details

Category: News
Published: Monday, 30 November -0001 00:00
Written by Bill Jaynes
Hits: 253
Embassy of the People's Republic of China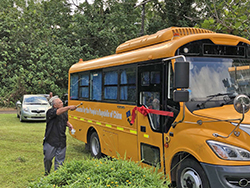 On September 4th, H.E. Ambassador Huang Zheng attended the handover ceremony for 2 school buses donated by China's Zhongshan City to Madolenihmw Municipality. Around 30 guests were in attendance, including Mr. Brendy Carl, Assistant Secretary of Foreign Affairs, Ms. Mary P. Mudong, Representative of Honorable Reed Oliver, Governor of Pohnpei State, T.H. Shelten G. Neth, Chairman of Health & Social Services of 10th Pohnpei State Legislature and Chairman of Madolenihmw Delegation, His Majesty Herbert Hebel, Wasalapalap Isipahu Nahnmwarki of Madolenihmw, T.H. John Adolph, Iso Nahnken of Mdolenihmw, T.H. John Rensle, Acting Meninkeder Lapalap (Mayor) of Madolenihmw, teacher and student representatives, and Counselor Zhang Weitao, Deputy Chief of Mission of the Chinese Embassy.
Looking back on the ins and outs of the school buses project, Ambassador Huang pointed out that both Chinese and the FSM governments at all levels take education as a priority. Ambassador Huang said, we're fully aware of the difficulties in school education caused by high mountains and remoteness in Madolenihmw. The donation demonstrates our willingness to support and assist the FSM in its pursuit of sustainable development in all economic and social sectors, including education. Ambassador Huang emphasized that China's foreign aid is conducted on the principles of equality, mutual benefit, openness and sustainability, without any political precondition attached on, thus it's the sincerest and most selfless one. Ambassador Huang said, by donating to the FSM, be it school buses or medical supplies for enhancing anti-epidemic capacity, China is taking concrete actions to implement the Xi Jinping Thoughts on Diplomacy, whose content is centered on working to build a Community with a Shared Future for Humanity. The 2 school buses were particularly customized for Madolenihmw, adapting to local climate and geological conditions. Zhongshan City has enjoyed dynamic friendly exchanges and cooperation with a number of municipalities in the FSM, including Madolenihmw, which consists of an important part of the Comprehensive Strategic Partnership between China and the FSM. Ambassador Huang hoped that the 2 school buses can provide high-quality service for many years, allowing the project to serve the public interest indeed and helping the people of Madolenihmw to learn more about China. Ambassador Huang said, China stands ready to make joint efforts with the FSM to implement the important consensus reached by Chinese President Xi Jinping and FSM President David Panuelo during their summit in Beijing last December, to further develop the China-FSM Comprehensive Strategic Partnership in depth and width and to consolidate our Great Friendship on the fundamental bedrock of the One-China Principle.
Mr. Brendy Carl and His Majesty Herbert Hebel appreciated the donation of 2 school buses, taking them as a solution to a long-term problem. They extended sincere thanks for China's generous selfless help to the FSM in FSM people's struggle for national independence and the pursuit of economic and social development. They said, Chinese aid stays close to grass-root communities which constitute the FSM society from the bottom up, and attends to ordinary people's most pressing needs, therefore, it is practical, timely and effective. It also lays a firm social and public opinion foundation for the China-FSM Comprehensive Strategic Partnership and our Great Friendship. Bearing in mind the kindness received from its Chinese friends, the FSM will continue to strengthen communication and cooperation with Chinese localities, including Zhongshan City, and Chinese people from all walks of life, elevate the China-FSM Comprehensive Strategic Partnership to new heights and jointly build a Community with a Shared Future for Humanity.
At the handover, religious leaders blessed the school buses and the wife of His Majesty Herbert Hebel cut the rainbow, abiding by a unique matriarchal custom of Pohnpei State.
The 2 school buses are funded by Zhongshan Municipal Government of China's Guangdong Province and were manufactured by China's Zhengzhou Yutong Bus Co.,Ltd.. The donation agreement was signed by Zhongshan and Madolenihmw representatives last year during the visit to the FSM by Mr. Feng Yurong, Vice Chairman of Zhongshan People's Congress Standing Committee.