Hainan- Pohnpei standardized coconut plantation makes steady progress
Details

Category: News
Published: Monday, 30 November -0001 00:00
Written by Bill Jaynes
Hits: 278
Pohnpei Pilot Farm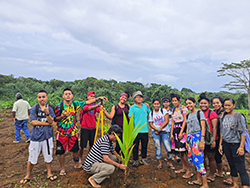 The plantation began operation in 2019. which is jointly built by the Hainan Provincial government and The Pohnpei Government, and jointly implemented by the Chinese Academy of Tropical Agricultural Sciences and the Pohnpei Resource Development Bureau , with the purpose of enhancing agricultural cooperation between the two sides.
For more than a year, steady progress has been made. Planting a total of 250 coconut trees of 3 excellent local varieties. The coconut trees are growing well. During this period, a training course on standardized coconut cultivation was held, which was attended by 20 people from The Agricultural office staff of Pohnpei ,students, and local farmers. The wide-narrow row planting technique was emphatically explained to them. This training course has been recognized by the trainees.
The wide-narrow row planting technique of coconut plantation can improve the utilization rate of land. Since coconuts have a nutritional growth period of at least three years, farmers cannot reap no economic benefits during the early years of coconut plantation. By using the wide-narrow row planting technique, farmers can increase their income by interplanting other cash crops in the in the wide row of coconuts, such as pasture grass,coffee,banana ,pineapple .
Routine coconut garden management, including weed removal, pest and disease control, water pipe laying, fencing construction and so on, will better promote the construction of coconut plantation.
The successful construction of the standardized coconut plantation will continue to benefit the two peoples and consolidate the friendship between China and the FSM.