Pohnpei Rotary Club hosts annual Fun Run
Details

Category: News
Published: Monday, 30 November -0001 00:00
Written by Bill Jaynes
Hits: 296
Pohnpei Rotary Club
September 5, 2020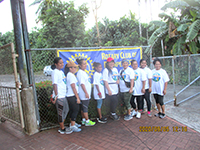 Pohnpei—It was the first Fun Run of this Covid infected year, but it was a good one.
The Pohnpei Rotary Club held its annual Fun Run on September 5, 2020.
There was a big turnout and at least a hundred persons participated. Given the current situation, the event was held outside with social distancing for the runners, including staggered starting times.
Additionally, no times were given out due to the staggered starting times, so the participants were only participating for fun and the awesome shirts donated by Budweiser/Ambros, Inc.
Also for one of the only times there wasn't a tropical storm during the run.
We want to thank all of our sponsors who supported this run, Ambros Inc., Guam/Budweiser, Palm Terrace, Drops of Life, FSM Olympic Committee, Pohnpei Track and Field Club, Bank of FSM, True Value, Ace Hardware, Yapese Community of Pohnpei and Kolonia Town and the Mayor and Police Chief for Security.
The Rotary Club uses fund raising money to support our projects in Pohnpei, including scholarships for deserving Micronesian College Students, Medical Projects, including helping diagnose and treat rheumatic heart disease, the Pohnpei Little Library, sports equipment projects, and hopefully the annual Spelling Bee. We thank everyone for their support of this fund raising project.
Unfortunately everyone left as soon as they finished the run, which was good for social distancing, but they missed the 40 minutes of prepared remarks by this year's president of the Rotary Club.
Thanks again to all our sponsors, and thanks to everyone for their support.