2nd Annual Anti-Human Trafficking Conference addresses whole community prevention & response to Human Trafficking
Details

Category: News
Published: Monday, 30 November -0001 00:00
Written by Bill Jaynes
Hits: 293
FSM Information Services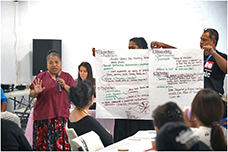 PALIKIR, Pohnpei—From September 28th to October 1st, 2020, the Department of Justice of the Federated States of Micronesia (FSM), in a whole-of-community collaboration with partners such as the International Organization for Migration (IOM), Kolonia Elementary School, Pohnpei State Government, the United Nations Office on Drugs and Crime, and the U.S. Federal Bureau of Investigation (FBI), hosted the 2nd Annual Anti-Human Trafficking Conference.
Highlights from the workshop included a view on human trafficking in the FSM from the perspective of the FSM Supreme Court, human trafficking from the perspective of a public classroom schoolteacher, mapping a referral network for human trafficking cases, and the development of action plans.
The administration of His Excellency David W. Panuelo, President of the FSM, and the Honorable Yosiwo P. George, Vice President of the FSM, take the issue of human trafficking seriously, as evidenced by the September 2019 restructuring of the Department of Justice to include a new Division of Anti-Human Trafficking. Fiscal Year 2021 in particular includes a range of programming complete with financial support from the 21st FSM Congress, including $125,000 for Anti-Human Trafficking Enforcement, Campaigning, and Investigation; $100,000 for Victim Shelter Services;
$50,000 for the Victim Shelter in Chuuk State; and $150,000 for the construction of Anti-Trafficking Shelters in Pohnpei, Yap, and Kosrae.
Upon the closing of the 2nd Annual Anti-Human Trafficking Conference, President Panuelo made the following remarks: "My fellow Micronesians—so long as human trafficking exists in any form in this Paradise in Our Backyards we will be unable to authoritatively say that we epitomize the Pacific Way of respect for others. I want us all to think sincerely about these following questions. How many of us in Pohnpei know
someone who has been taken to a boat in Dekehtik? How many of us have laughed at a joke about bananas? How many of us understand that, when there is a joke about bananas, it is not at all a reference to the fruit, but a reference to behavior, frequently one done under some form of duress, including economic hardship, that harms our family and neighbors, predominantly women?"
"It is so often considered to be a taboo for Micronesians to explicitly talk about sensitive matters. We do not talk about sex or sexual relations, in nearly any form, including the difference between a healthy relationship and an abusive relationship, or the distinction between consent and force. The fact I have said these words at all will shock some of you, despite the fact that our large families are evidence we all know romantic relationships exist, and despite the fact that we have entire vernacular dedicated to joking about it indirectly. One of the first things a child learns in a healthy family is trust. What does it mean for our society if someone cannot trust that their feelings and experiences are mentionable, as well as manageable?"
"I don't say this to be shocking. I say this so as to point out that the elephant in our proverbial room is that human trafficking, in the form of prostitution, as well as in the forms of child labor and wage slavery, are genuinely real in our islands—and we know it is true, even if it is deeply uncomfortable to acknowledge it, because to say so is to confront it. But such confrontation is crucial in order to overcome these evils and transform our Nation into the Paradise it so deserves to be."
"My fellow Micronesians, I reject the notion that a topic is so taboo that we forego talking about it if it means that our own family and community members are hurt. Feelings are mentionable.
Experiences are mentionable. It is by mentioning our feelings and mentioning our experiences that we can manage them, that we can demonstrate that a victim of human trafficking is not broken or damaged or wrong for having been exploited. It is also by being steadfast in our commitment to the truth, whether it's scientific truth, historical truth, or personal truth, that we can identify cases of human trafficking in our communities, and protect victims and prosecute perpetrators to the fullest extent of the law."
"To be extraordinarily clear: our FSM Department of Justice has the full and total support of Vice President George and I to ensure justice is served for all who call the FSM their home. I appreciate very much that this 2nd Annual Anti-Human Trafficking Conference has brought the whole of our community together to discuss this issue. I encourage us all to maintain our activeness in tackling human trafficking, because we need to work together to demonstrate a total rejection of this evil. Let us demonstrate the Pacific Way by showing that respect for others means protecting and serving our families and our communities, that no woman or child will be exploited, and that every person who seeks to minimize the value of another human being by exploiting their body will be given their due justice."