UNICEF and MRCS to distribute essential supplies to schools in the FSM
Details

Category: News
Published: Monday, 30 November -0001 00:00
Written by Bill Jaynes
Hits: 233
Micronesia Red Cross Society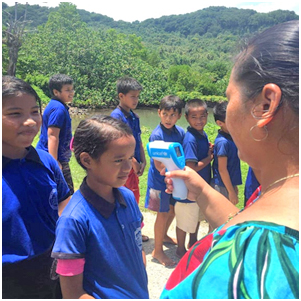 Kolonia, POHNPEI -- The Micronesia Red Cross Society (MRCS) and UNICEF are collaborating with the Department of Education to begin distributing critical supplies to schools in the Federated States of Micronesia as part of on-going efforts toprevent the spread of COVID-19 pandemic while promoting health and hygiene practice.
The supplies include infrared thermometers for regular checking of temperatures, soaps, and water bucketsto be placed at vantage locations for promoting frequent handwashing practices in schools. In addition, schools will be provided disinfectants, gloves, and boots for regular cleaning of school lavatories to ensure healthy and safe school environment.
According to Mr. Marson Rosario, Communication Officer for FSM MRCS, volunteers and partners will begin distributing the supplies to all the 31 schools, both public and private, on the main island of Pohnpei from September 22, and then expand the distribution to cover the outer Islands and Islets. He further indicated that they have developed a similarly detailed distribution plan to ensure all other schools in the remaining three States: Chuuk, Yap and Kosrae are fully covered.
Thanks to the generous contributions of donors like USAID and Government of Japan, the provision of these essential supplies by UNICEF to the over 180 schools in FSM is expected to further strengthen the preparedness and resilience levels of schools within the context of COVID-19 response.