Japan officially hands over equipment it donated to Pohnpei government in ceremony
Details

Category: News
Published: Monday, 30 November -0001 00:00
Written by Bill Jaynes
Hits: 242
By Bill Jaynes
The Kaselehlie Press
September 23, 2020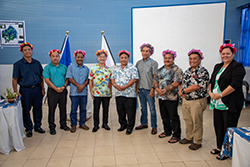 Pohnpei—This morning, Pohnpei Governor Reed Oliver, his cabinet members, and Lt. Governor Feliciano Perman met with Ambassador of Japan to the Federated States of Micronesia Sobashima Hidenobu for a handover ceremony of equipment donated by the Government of Japan under its Economic and Social Development Program of 2016.
The donated equipment began to arrive in Pohnpei in July of this year and much of it has already begun to be put to use. Due to the COVID-19 pandemic, individual hand-over ceremonies were not held for each piece of donated equipment. The total amount Japan committed to the FSM was 350 million Japanese Yen, approximately $3.2 million US dollars. Approximately 80 million Yen or $740,000 was allocated for use in each of the four FSM States.
The donations included one biological coagulation analyzer for use by the Department of Health Services. The analyzer can quickly provide measurement of blood platelet levels for a variety of medical uses at the hospital.
The donations also included two water tank trucks for use by the Department of Public Safety. The Departments of Resources and Development and the Environmental Protection Agency each received a wood chipper. The Pohnpei Transportation Authority also received two dump trucks and four excavators.
During the handover ceremony, slides of each piece of machinery were displayed rather than having each item of equipment at the site of the ceremony which has previously been done.
"We understand that the 4 excavators have already been mobilized to construct quarantine facilities in preparation for receiving the Pohnpei citizens and residents from abroad for the first time since March this year, and we are glad that Japan's cooperation is effectively and efficiently utilized to counter COVID-19, said Ambassador Hidenobu. "I hope that the equipment procured from Japan will contribute to sustainable economic and social development of Pohnpei State," he concluded.
Governor Reed Oliver profusely thanked the government of Japan for its continuous assistance to the people of Pohnpei.
After the ceremony, Chief of Staff Suzanne Lowe Gallen said that it is important to note that the new equipment is not intended to supplant equipment already owned and operated by the private sector but to increase capacity.