Diverse support behind Yap's innovative reading program
Details

Category: News
Published: Monday, 30 November -0001 00:00
Written by Bill Jaynes
Hits: 242
Habele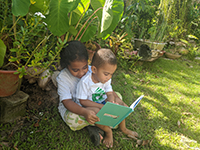 Colonia, Yap- Starting this fall, "Young Island Readers" offers all children born on Yap one, new, age-appropriate book each month until their fifth birthday. Books are mailed, individually wrapped, to the family's post office box.
This is possible through a partnership between Dolly Parton's Imagination Library and Habele. The Imagination Library offers children free, home-delivered books through collaborations with local nonprofits. In Micronesia, Habele is that local partner. In 2020, the program will be piloted in Yap with the vision to expand across all FSM States in the coming years.
To raise its share of the costs of books and postage, Habele began fundraising in mid-summer. The response was unprecedented. At the head of the line was Roger Gale who served as the Director of Friends of Micronesia in the mid 1970s. The group fought tirelessly for the United States to grant the people of the TTPI the opportunity for self-determination. Five decades later, Gale remains a committed supporter of the people of Micronesia.
When he learned about Young Island Readers Gale pledged to personally match all donations in 2020. This generosity came as no surprise to Micronesians who know Gale well.
"Many present and past leaders in the Micronesian region—Commonwealth of the Northern Mariana Islands, Federated States of Micronesia, Republic of the Marshall Islands, and Republic of Palau and RMI—owe a considerate debt of gratitude to Professor Roger Gale for training, shaping their political minds, and augmenting their political careers." explained Hon. Asterio R Takesy, former Micronesian Ambassador to the United States, and a student of Professor Gale's in the early 1970s.
"I've come to respect him even more for continuing to support Micronesians in their search for a place in the sun," continued Ambassador Takesy, who now leads the FSM's Joint Committee on Compact Review and Planning.
Habele's individual donors -mostly former Peace Corps volunteers and other Americans with a personal connection to the islands- stepped up to the challenge of Gale's generous matching offer. So did the Matson Foundation, the philanthropic arm of the Hawaii-based shipping company that serves ports throughout Micronesia and across the Pacific.
Young Island Readers is also generating investment and advocacy closer to home. The College of Micronesia-FSM recognized the direct, innovative and efficient model of the universal program with a $15,000 contribution.
"These young readers are COM-FSM's class of 2035," explained Caroline Kocel, Vice President for Institutional Effectiveness and Quality Assurance. "This is a direct, high yield investment in our future students by the college, and a manifestation of its commitment to the success of the FSM as embodied in its mission."
With investments in the program made, and a partnership with Yap Catholic High School to help sign up newborns across Yap secured, Young Island Readers aims to serve as a direct, efficient, and empowering model for developing early literacy across the FSM.