Saimon says "this is my day" wins $700 at annual WCPFC/CFC Fishing Tournament
Details

Category: Sports
Published: Monday, 30 November -0001 00:00
Written by Bill Jaynes
Hits: 272
Pohnpei Fishing Club
October 17, 2020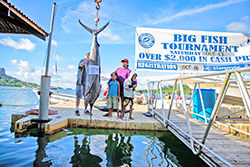 Pohnpei—Anglers on 15 boats participated in a big fish tournament today sponsored by the Western and Central Pacific Fisheries Commission and Caroline Fishing Corporations vying for $2350 in cash prizes. For the second tournament in a row, it was a sweltering sunny day but anglers were still able to attract some reasonably sized fish returning for the weigh in at Mangrove Bay Bar and Grill between 4:00 and 5:00.
Peter Saimon took the top prize in the biggest fish category and won the $700 prize for his 138 pound marlin. Andolin was second with a 74 pound sailfish taking home $500. Kenty Spencer landed a pretty 54.5 yellowfin tuna taking the third place $350 prize.
In largest of species, anglers competed for a top prize of $150 for each species. Mauricia Joseph landed the next biggest yellow fin tuna at a pretty big step down from the largest of the day. At 8 pounds, his yellowfin earned him the prize. Dave Spencer had the biggest barracuda at 11.5 pounds. March David landed the biggest skipjack tuna at 12.5 pounds. Twin wahoos of 16 pounds each were landed by Marvy Spencer and by Leah Daunakamakama. Organizers decided to split the award for the wahoos giving Spencer $125 for the biggest wahoo and Daunakamakama the top lady angler's prize also for $125.
Dane Nighswander took home the junior angler prize of $100 for his 9.5 pound barracuda.
Uta, Beulah, Cheryl, and Jasimine sold bowls of chicken curry to benefit the Pohnpei Public Library's video reading program and participants at the weigh in snapped it up.
Everyone had a lot of fun. All boats returned safely. Many thanks to all the volunteers who helped including Bill, Virginia, Cel, Serlynn and the people on the dock and the boom truck.